At a Glance
Expert's Rating
Pros
More of the same Sims stuff
Cons
Wonky movement controls
Boring errands
Unimpressive new sandboxes
Our Verdict
I made a promise to myself that I wouldn't review every Sims 3 expansion pack that comes out. The Sims, as a money-making enterprise, is brilliant. An addictive simulator with millions in sales that comes out with seemingly quarterly expansion packs for people to gobble up. As a gaming experience, the new stuff and new jobs that are available through the expansion packs usually don't change the fundamental gameplay of the original release. Thus, my trepidation on reviewing a Sims expansion. That said, World Adventures' promise of exciting new locales to investigate was just enough to get my hopes up.
The Sims 3: World Adventures offers players the opportunity to have their Sims travel to three locations (China, Egypt, and France) and go on an adventure. According to the press materials, you can learn new skills (like martial arts), explore dungeons and collect important treasures while giving your Sim new environments to play around in. Three new sand boxes, what could be better?
The reality is that all three areas play very similarly and the adventures feels more like errand running. You'll put on garb that bizarrely resembles Indiana Jones (sans revolver, whip, and Nazi-fighting) and then meet different locals to begin little quests for items. Almost all of them involve collection of some form, whether it be journeying to a crypt or gathering objects scattered throughout the map.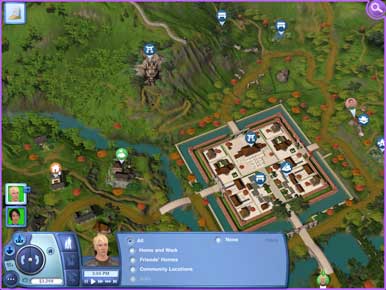 My Sim and his girlfriend (he's thinking of asking her to marry him but is having trouble getting beyond her criminal past) traveled to Shang Simla, a vaguely racist sounding name where every major Chinese landmark is twenty minutes away.
Going into the crypt was fun the first time and really shows off the tools that have been created to build a fully interactive world. The dungeons are far from scary and are only rarely dangerous, but the customization and ability to create clever puzzles puts the tools on par with some fantasy RPGs. I'm sure there are people already out there who are creating Dungeons and Dragons maps using these tools.
Still, the dungeons are pretty generic looking, are often tiny, and don't provide much in the way of challenge. You'll have to dig through bones to get a key, or swim into a pool to obtain it, or stand on a certain panel to unlock a door-pretty standard stuff. The "moving an object" puzzle is common too, but not easily executed thanks to some awkward controls. I wanted to move a large statue to the left in order for it to cover the block I needed, but routinely the Sim was only given the object of moving it the opposite directions of where I wanted to go. The small yellow directional indicator that appears during this movement interface needs to be overhauled.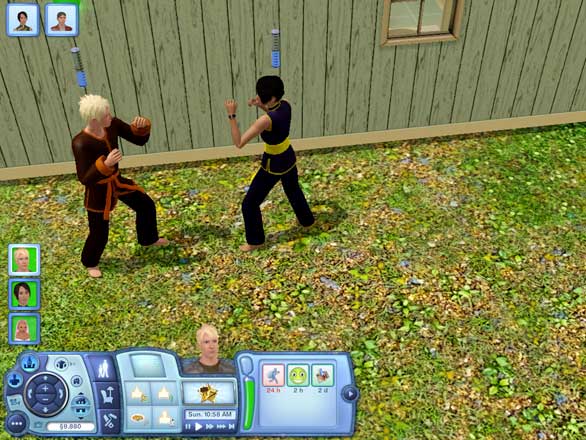 There are other strange oversights in the game that make it more frustrating than it should be. Most adventure missions have goals that appear in the worldview map that lets you figure where you have to go next. But some don't, and the difference is immense. I had to find two old relics and so thought of buying them at the store. This didn't work towards completing my adventure, so instead I had to look around the map (pixel hunt, really) until I found some areas I could excavate. Even worse was the mission where I had to find a small red assassin bug that kept disappearing from both views. Don't get me started about trying to find the tent salesman.
So why go on all this adventuring? Well, for some reason the governments of Egypt, France, and China only grant longer visas to people who have earned Visa points by running these cruel little errands and have desecrated enough tombs. You'll initially only be able to stay for three days, which is a terribly short journey considering you'll still have to eat, sleep, shower and do all of the other annoying little things you need to keep your Sim happy. You'll find precious few hours to explore and adventure; if there was a way to take a "vacation" from some of the more boring aspects of the Sims, this expansion would be much more appealing. You'll have to take several short, expensive three day vacations in order to ensure Visa points sufficient to take longer five and seven day vacations. Eventually, you'll be able to earn the right to buy a second home at a vacation spot but this seems rather unnecessary if you've already explored the area through weeks of vacation. Your Sim ages on vacation just like they do in their home town, and so you can spend a better part of your Sim's life traveling and exploring just so they can earn the right to permanently travel and explore the same areas. That is, of course, until they die.
While the locations don't play particularly different and the longer trips just grant you more of the same, I found sending more than one Sim on vacation provided more variety in gameplay. Then, I would guide two or three of my characters on their various adventures or as they satisfied various lifegoals. Since the transit times between locations are fairly long, I found I always had time to switch to another character and direct them to a new location or objective.
My Sim and his girlfriend both learned the martial arts skill, which is just another of many skills to learn. The reason I liked this one in particular is because by having my two Sims spar, they were both able to gain experience. I also enjoyed watching my Sim get beat up by a wooden dummy and later break his hand trying to break a concrete block. The costumes and belts you earn were also a nice inclusion by the developers.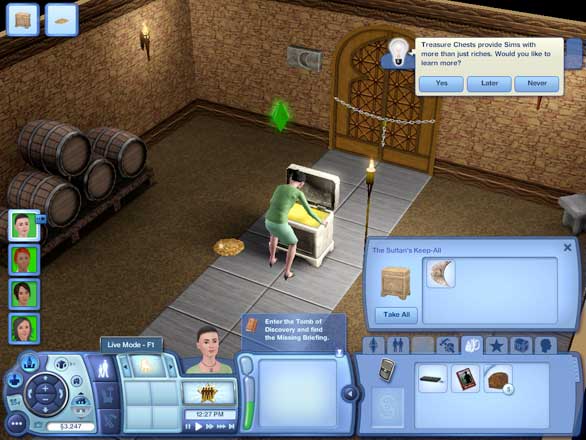 Macworld's buying advice
For every moment where your Sim discovers an ancient relic or defeats an opponent in sparring, you appreciate how detailed and fun the Sims can be. But unfortunately, World Adventures is a rather thin expansion pack that would be a free update for most games (if those games didn't have the name "Sims" attached to them). You'll love getting your Sims out of their pristine towns to new pristine locations, but you'll get bored with the lack of new things to do and lack of "wow" moments to be had. Not just more skills, more locations, and more jobs would vastly improve the Sims franchise. Instead, some new gameplay elements would end the streak of unnecessary expansions and finally offer gamers a reason to keep shelling out new funds for their paper dolls.