Editor's note: The following article is reprinted from the Today @ PC World blog at PCWorld.com.
The Spring Designs Alex E-Reader's road to CES 2010 has been rocky, to say the least. After announcing that the Alex would be using the Google Android OS in October 2009, Barnes & Noble revealed their Nook e-reader a day later, which featured two screens and the Android OS, just like the Alex. Now we're three months and at least one threatened lawsuit later, and the Alex is here at CES.
In spending some quality time with Spring Designs' $349 Alex, I came to appreciate much about the company's approach to an e-reader. It doesn't have the biggest display, nor the most colorful. But it does have a highly usable and well-integrated LCD screen (running Android), and its ability to flow content browsed anywhere on the Web to the e-reader gives this model a unique edge over the competition. Add in the company's announced partnership with Borders for acquiring content, and this is one of the most promising models I've seen.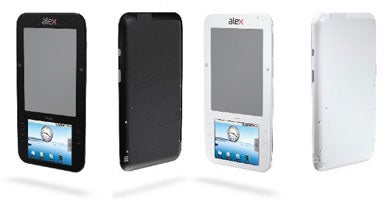 The Alex's primary display is a six-inch E-Ink display, just like the Amazon Kindle 2 and the Barnes and Noble Nook. At the top is a Mini USB port, a 2.5mm headphone jack (similar to those used in cell phones–future revisions will likely include a standard 3.5mm jack instead). Embedded in the back is a removable MicroSD card slot so you can expand on the 2GB of internal flash memory storage, though it requires some dexterity (and longer nails) to get to.
The secondary display is a 3.5-inch, 320 by 240-pixel QVGA LCD touchscreen running Android 1.6 (Cupcake) minus the cellular and GPS components. This is where most of the Alex's web browsing feature occurs, since it's a color display.
This display is also your main input device for the Alex; you can use it to navigate through your books from the main Library screen, navigate through the table of contents, add bookmarks and annotations, record your own voice notes, and even use Android's standard music player with the Alex's two built-in speakers to put on some reading music. Hardware buttons on each side of the screen handle page-turning functions.
Stay tuned for more details on the Alex, which ships February 22.
Read more of our coverage of CES 2010.