Editor's note: The following article is reprinted from the Today @ PC World blog at PCWorld.com.
Let's get the bad news about the Fujitsu FLEPia out of the way: Right now, it's only available in Japan. The good news is that Fujitsu is looking into bringing it to the U.S. Hopefully, the company will do so soon, as this flexible e-paper reader looks very promising.
The FLEPia unit on display here was customized for showing off in the U.S., but its interface was clean and colorful (underneath was Windows CE). It has a 1.2 second refresh rate, and the lightning fast scrolling compared with the Kindle and Nook.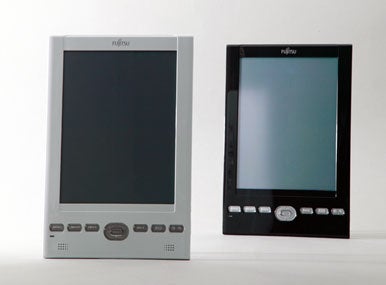 This slim (12.5mm thick), 350-gram model was especially attractive given its color display–a 8-inch passive matrix touch screen which supports 64, 260K, and 4096K colors. There's no backlight, yet images could look bright and brilliant since the display is designed to reflect back red, green, and blue ambient light. Also, it only uses power while redrawing the screen, so Fujitsu claims that the FLEPia can last for 40 hours per charge.
The FLEPia's connectivity options are also fairly impressive; a USB 2.0 port, SD card slot, and Internet access via Bluetooth and Wi-Fi. In Japan, the FLEPia works with different mobile carriers, so we'll probably see a similar arrangement for a US release. Does all of that sound good? Be prepared to set aside around $1000, which is roughly what it cost during the April 2009 launch in Japan.
Read more of our coverage of CES 2010.