Editor's note: The following article is reprinted from the Today @ PC World blog at PCWorld.com.
DMC plans to unleash a bevy of e-reader options on the world by June. With six models across two lines (Ocean and Tidal) the DMC Copia e-readers cover a range of options from 3G to Wi-Fi, with keyboard and without, and of course, large-screen versus pocket.
In talking with Copia, I was impressed by the company's commitment to the nascent e-reader market, which is underscored by the company's ambitious plans to launch six different models, ranging in price from $199 to $299. Among e-readers, consumers will want choice, and not one size will fit all, literally—there will be different things that excite different users.
More notable, though, is the company's holistic approach to its e-readers. While the e-readers stayed under glass and couldn't be touched at CES, the designs looked promising. The e-readers are complemented by Copia.com, an e-commerce and social networking-driven site that will launch as the bookstore community for the Copia e-readers.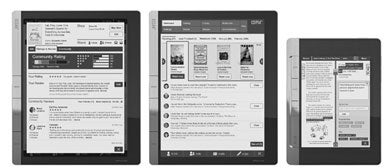 The Ocean line of e-readers range between 6-inch and 9-inch capacitive touchscreen ePaper displays at 600-by-800 and 768-by-1024 resolutions, respectively, and include 802.11b/g, accelerometers, headphone jacks, and internal microphones. The Ocean 9 3G has 2GB of internal memory, two internal speakers, and 3G wireless Internet, while the Ocean 6 and 9 have 4GB of internal memory and MicroSD card slots.
The Tidal line, on the other hand, starts with the standard Tidal, which has a 6-inch 600-by-800 ePaper display, a hardware keyboard, and 2GB of internal memory. The Tidal Touch and Tidal Touch 3G, meanwhile, have the same specs as the Ocean 9 and Ocean 9 3G but in a different, curvier body.
Read more of our coverage of CES 2010.