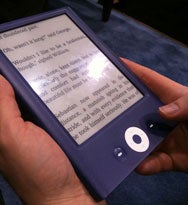 Stylish e-book manufacturer Interead has launched two new Cool-ER e-book devices at CES in Las Vegas. We caught up with Phil Wood, Cool-ER's Director to chat about the new models.
"The [new] Cool-ER Compact shaves most of the size from last year's Cool-ER model, which we're now calling the Cool-ER Classic but retains the same 6-inch display." said Wood.
Despite the full screen size, the Compact has a smaller form factor than Sony's Reader Pocket Edition, which has a 5-inch display.
"We've also redesigned the interface" said Wood, "it now has larger icons instead of the list structure we used before". The Compact also has two new arrows button on the front to move pages without using the built-in circular click-button.
It also sports 2GB of onboard memory, which should be more than enough for the largest book library.
The Cool-ER Connect is a touch-screen unit with built-in Wi-Fi. This enables you to sign in to Wi-Fi hotspots and download books and publications when you're on the move.
One particularly nice touch of the Connect is that the display didn't seem to sport the reflective gloss that ruined the Sony Touch, although the unit we tested was an early pre-production model.
Interead has also managed to build a large bookstore. "There are now over two million books available in our U.S. bookstore" said Phil Wood, "with about one and a half million available in the U.K." The range includes all of Google books and many bestsellers. It uses the Adobe Digital Editions to enable purchased content that can be shared with up to five friends.
The company is also looking to provide subscription services to the latest newspapers with its Cool-ER Connect.
The Cool-ER Compact will be available in the U.K. in the next two months, with the Cool-ER Connect launched in the U.S. soon and brought to the U.K. at a later date. The original Cool-ER e-book will be rebranded the Cool-ER Classic and phased out.
Read more of our coverage of CES 2010.