Editor's Note: The following article is reprinted from PCWorld.com.
This year's batch of point-and-shoot cameras will sport some brand-new features, including improved picture sharing, and refined versions of last year's innovations, like the pocket megazoom craze, will find their way into more and more models. And while 3D-capable pocket cameras won't likely be a big trend this year, some early movement on the 3D front suggests that cameras that capture 3D photos and video may be big news in 2011.
Now that many manufacturers have offically announced their early-2010 product lines for point-and-shoot cameras, it's time to connect the dots. Expect to see more major models announced—and new trends develop—in late February at PMA 2010 in Anaheim, but some common themes have popped up in cameras across the board.
Cameras built for sharing
Many companies are starting to realize that, for many shooters, sharing images is just as important as taking pictures. Some big announcements at CES are built to let you scratch that sharing itch in different ways.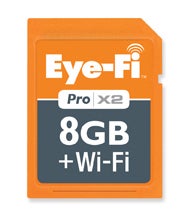 Like in year's past, a few new offerings let you share photos using good old Wi-Fi: Eye-Fi's new higher capacity, higher speed Pro X2 card geotags your pics and lets you upload images from any compatible camera, and Samsung's Wi-Fi-and-Bluetooth-enabled CL80 camera is a follow-up to last year's uber-connected CL65.
New in-camera sharing features aren't limited to in-camera Wi-Fi connectivity. The $350 Kodak Slice camera packs a nice 2GB internal flash drive and a huge, vivid 3.5-inch touchscreen that not only makes it a viable pocket-sized photo album, but also lets you tag images for upload to popular sites. Tagging photos in the camera using its touchscreen interface, connecting the camera to a PC via USB, and hitting a "Share" button uploads photos and videos to Facebook, YouTube, Flickr, or Kodak Gallery.
One of the most impressive new sharing technologies to watch in action is TransferJet, a Sony-developed wireless technology that transmits photos between cameras and other TransferJet-capable devices simply by holding them next to one another. Two Sony Cyber-shot cameras offer the wireless technology, but in order to make it work, you need both a TransferJet-capable camera and a special TransferJet Memory Stick.
Pocket megazooms: Not just for zooming anymore
With more pocketable, high-zoom cameras available by the day (for PC World's top picks of current models, check out our top 10 advanced point-and-shoot camera chart), the optical zoom count isn't even the pocket megazoom's marquee factor anymore. In 2010, a key question will be, "What else can it do?"
This year, pocket megazooms will do a whole lot more. Casio's 10x optical zoom Exilim EX-FH100 offers a high-speed shooting mode that snaps up to 40 shots per second and captures video at up to 1000 frames per second, along with a pre-recording buffer that makes capturing high-speed action shots easier. Another Casio pocket-zoom, the Exilim EX-H15, lacks the high-speed shooting mode but instead adds the company's Dynamic Photo feature for in-camera editing and creative, green-screen-like effects.
Olympus's 7x optical zoom Stylus-7040 offers 2GB of internal storage and has some creative shooting modes of its own, including digital filters that mimic the effects of a pencil sketch.
Sony's TransferJet-capable Cyber-shot DSC-HX5V not only packs a 10x optical zoom G lens, but also built-in GPS, a digital compass, and in-camera high-dynamic range and Sweep Panorama modes.
The aforementioned Samsung CL80 boasts Wi-Fi, Bluetooth, and a stunning 3.7-inch AMOLED touchscreen to complement its 7x optical zoom lens; a similar model, the touchscreen-LCD Samsung TL240, offers the same basic hardware without the wireless connectivity options or the AMOLED screen.
The 8x-optical-zoom Panasonic Lumix DMC-FH20 has whistles and bells of its own: a lightning-fast shutter response time and compatibility with the new ultra-high-capacity SDXC cards.
An early look at 3D cameras
If 3D TV does become a big hit, it's only logical that everyone will eventually want to shoot their own three-dimensional videos and photos. For all the 3D-capable HDTVs and other displays on hand at CES this year, there were only a few devices on the show floor for capturing three-dimensional images.
There's already a camera on the market that shoots 3D images and video: Fujifilm's FinePix Real 3D W1, which costs $600 for the camera itself and $500 for a special display that's used to play back video and photos in 3D. You don't need to wear glasses to see the 3D effects; stills and video played back on the customized display shows impressive 3D effects, just as long as you're viewing it from certain angles. It's a first-generation model, and Fujifilm says it's honing the technology for use in subsequent iterations of the camera. The company is developing it as a mainstream consumer device, not as just a gimmick.
Samsung is also reportedly working on a 3D still camera, with a two-lens design similar to the Fujifilm camera. On the professional (and very expensive) end of the spectrum, Panasonic's Twin-Lens Full HD camcorder shoots 1080p 3D video, and the $21,000 video camera records the footage to SDHC cards.
Don't expect to see many 3D cameras hit stores this year, but 2011 might be a big year for 3D cameras at CES and possibly on store shelves.
Pick a card, but not any card
As much as the storage-format war cleared up a bit with Sony announcing that it would support SD and SDHC cards in its new point-and-shoot cameras, it's still a bit cloudy on some fronts. That's due to the new high-capacity SDXC card format, as well as new cameras that offer MicroSD card slots.
Despite the staggeringly high storage-capacity bar set by the SDXC cards, the cards aren't compatible with SD/SDHC card slots. The new entry-level Canon PowerShot cameras and Vixia HD camcorders accept SDXC cards, as do the new camcorders and cameras announced by Panasonic; all those models also take SD and SDHC cards.
Samsung's new CL80, TL240, and DualView TL210 all take MicroSD cards, as does Kodak's touchscreen Slice camera—which also has 2GB of flash storage onboard. And although Sony's new cameras accept both SD/SDHC cards and Memory Stick, you'll need a TransferJet-capable Memory Stick card to use its wireless sharing features.
The bottom line? If you've already got a storage card or card reader that you want to use with your new camera, make sure to read the fine print when it comes to compatibility.