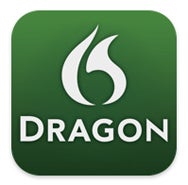 Peruse any story about Nuance Communications' voice-enabled iPhone apps, and it won't be long before an aggrieved iPod touch owner poses this question: Why won't Nuance's dictation and search apps work on my mobile device? It's not a bad question—after all, the second-generation of Apple's widescreen music player lets you plug in a microphone, whether it's the one on the included earbuds or a third-party offering.
Apparently, Nuance thought it was a pretty good question, too. Over the weekend, the developer updated both Dragon Dictation and Dragon Search, adding support for second-generation iPod touches.
Dragon Dictation is a voice-recognition app that converts your words into text; you can then e-mail the converted text, send it as an SMS message, or save it to the iPhone's clipboard for pasting into other apps. Dragon Search is a voice-driven search app that lets you find results in Google, YouTube, Wikipedia, Twitter, and iTunes among other sources.
In addition to iPod touch support, the 1.2.0 update for Dragon Dictation lets the app automatically determine when you're done with your dictation. By adjusting the settings, you can make the app automatically process your spoken text, saving you from having to tap the Done button.
Both Dragon Dictation and Dragon Speech are free downloads from the App Store, though Nuance says the free price tag is for a limited time.