Every picture taken on a digital camera has a little timestamp that shows when you took it. It's a nice convenience, although it doesn't really help you figure out where you took that photo. GPS-equipped cameras like the iPhone camera help with that, but if you have a really nice camera, why bother with the extra expense? Let's face it, when you're snowboarding down a pristine mountain, iPhone quality pictures aren't going to elicit that many "oohs" and "ahhs" from your friends.
So how do you combine your iPhone's GPS with the photos of a top-notch camera? That's what New Wild's PhotoPinApp is for.
PhotoPin is a $3 iPhone app that tracks GPS data as you walk around with your camera. Just open the app on your phone, leave the phone running in your pocket, and the app will quietly track your whereabouts over time. For added convenience, it also tracks the accuracy of the GPS coordinates, which is represented by a bullseye on the phone's screen.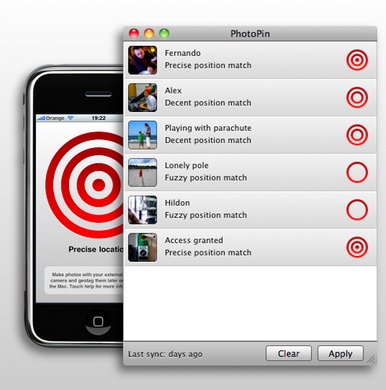 When you're back home, just launch the free companion application for your Mac to sync GPS coordinates with the iPhone over Wi-Fi. When you load photos directly from the camera, the app will automatically match up coordinates and accuracy with the photo's timestamps. If you're happy with the results, just apply the GPS metadata directly to your pictures with the click of a button.
Now you can plot out your trail with the photos you took in iPhoto '09, Flickr, Facebook, or any GPS-aware photo management software. No need to go crazy figuring out where every single one of your photos were taken with those tiny, tiny pushpins.
PhotoPin is available now at the App Store, and it requires iPhone OS 3.1.2 or later.