At a Glance
Expert's Rating
Pros
Improves any digital audio from your Mac or from an AirPort Express or Apple TV
Connects via USB or Toslink
Easy to use
Compact
Crystal-clear sound
Cons
Needs high-quality amplified speakers if used for computer listening
Pricey
Our Verdict
Let me begin by saying that I am not—and have never been—a member of the cult of the audiophile. While I love music (current iTunes library: 48,000 tracks), and appreciate the sound of a good stereo, I have never succumbed to the temptation to spend $1000 for speaker cables, or buy doohickies that protect my CD player from undesired micro-vibrations that might somehow jiggle the bits from the CD as they are read.
But, sometimes you get a device that can change your mind; that can make you rethink your long-held feelings about a subject such as sound quality. The $429 Cambridge Audio DacMagic is one such device.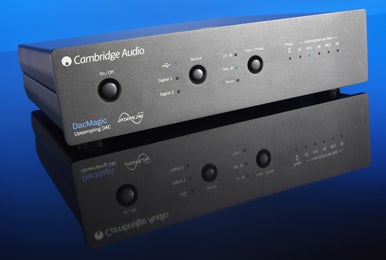 One of the most important elements of the musical chain from bits to waves is a digital-to-analog converter (or DAC). You've got them all over the place: in your CD or DVD player; in your iPod or iPhone; and in your Mac. A DAC is the heart of a sound card—it's the chip that changes the digital stream created from a CD, DVD, or digital music file into the soundwaves that you then amplify to get to your speakers.
There are a wide range of DAC chips, ranging from very low-cost to very expensive. At the low end, a DAC chip may be used in a cheap PC soundcard or throw-away MP3 player. At the high end, expensive DAC chips are found inside top-of-the-line CD players, amps, and other devices. For a DAC chip, price does matter.
The DacMagic is a standalone device that lets you bypass the built-in DAC chip in a computer or digital streaming device, using top-quality DAC chips (two Wolfson WM8740 24bit DACs in dual differential mode) that upsample the digital stream to provide output that you then connect to an amplifier or amplified speakers. (The DacMagic doesn't amplify the output, so you can't use it directly with headphones or un-amplified speakers.)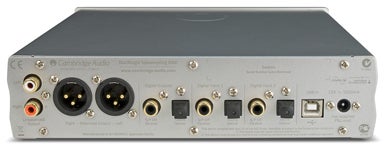 One reason the DacMagic stands out is that it accepts USB input; many DACs only allow digital optical inputs (which the DacMagic also offers). This means you can connect it to any computer with the included USB cable, and then connect it to your amp or speakers. (All current Macs also include digital optical outputs, so you can connect them to the DacMagic with a Toslink cable as well.) However, USB output is limited to a 44.1kHz sample rate; if you want to take advantage of higher-resolution files, such as 24-bit 96kHz FLAC files, you'll need to use the digital optical route.
So how does it sound? Quite impressive. I tested it out with a very good pair of speakers connected to my Mac, Eclipse TD 307s, that already sound excellent. But when I connected the DacMagic, and started listening to music, it took on a new level of clarity and depth. The best way to test an audio device is with music that you're familiar with, so I took a number of songs and classical works that I knew very well, on recordings I've listened to a lot; especially those where detail would stand out:
"Ripple" (Grateful Dead, American Beauty, remastered version
"Exit Music (for a Film)" (Brad Mehldau, The Art of the Trio, Volume 3: Songs)
"Where the Streets Have No Name" (U2, The Joshua Tree)
"Just Another Day", (Brian Eno, Another Day on Earth)
"Symphony No. 3 in D minor" (Gustav Mahler, Wiener Philharmoniker, Pierre Boulez)
"String Quartet in D Minor, Op. 56 Voces intimae" (Sibelius, Emerson Quartet)
"Piano Sonata No. 32 In C Minor, Op. 111" (Beethoven, Mitsuko Uchida)
The above is just a sample of what I listened to, over and over again, with the DacMagic. Let's start with "Ripple": if you know this song, it's a multi-layered composition with lush harmonies and a full range of acoustic instruments (notably that great mandolin work by David Grisman). Listening to it with the DacMagic made all the instruments take up their own positions in the soundscape, and the vocals just glittered with freshness. I closed my eyes and Jerry Garcia was right in front of me.
The Brad Mehldau song is a piano trio, where the drums have a very strong role, especially with a lot of cymbal work. This has long been one of my test tracks for stereo equipment, and the separation among the instruments, and the sounds of the drums and cymbals, were clean and precise with the DacMagic.
The U2 and Eno tracks take on new energy and heightened power. "Where the Streets Have No Name" feels fuller and richer, and "Just Another Day" fills the soundscape.
With classical music, the difference is even more apparent. The Mahler—especially the final movement—sounds far more real than I've ever heard on a recording, with sounds from pianissimo to fortissimo all coming through clearly. The Sibelius string quartet sounded so real that when I closed my eyes, I could imagine the Emerson Quartet being right in my room; the depth of the soundscape was exemplary, and the sound seemed to surround my ears much more than before. Solo piano recordings take on an astounding level of presence with this device; I've never heard the trills at the high end of the piano near the end of the Beethoven sonata sound so real. Other solo instruments—harpsichord, violin, cello—also sound much more vivid with the DacMagic. When I removed the device from my computer audio system, the difference was striking; everything sounded weaker and flatter.
Obviously, you can use the DacMagic in other locations than connected to your computer. If you stream music to an AirPort Express or Apple TV, for example, you can use the DacMagic connected to one of those devices' digital optical outputs before running it into your amplifier. (And it sure makes my stereo sound great!) Unfortunately, you can't really connect an iPod to it: very few iPod docks have digital outputs.
The only problem with the DacMagic? If you use it to listen to music on your computer, you may find that the stereo in your living room may not be up to snuff. Then you'll end up spending more money on either another DacMagic to use there, if you stream music from a digital repository, or a better amplifier. Once you hear how good music can sound with this device, you'll be spoiled.
Macworld's buying advice
At $429, the DacMagic is not an impulse purchase and not a device for everyone. And if you don't have good speakers connected to your Mac, it'd certainly be overkill. But if you do have good audio equipment, the DacMagic will definitely make your music sound much better.
Senior contributor Kirk McElhearn writes about more than just Macs on his blog Kirkville.