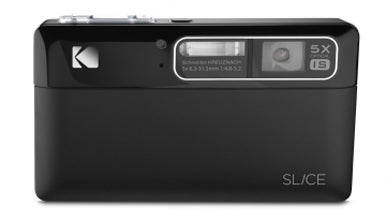 Kodak's slick new Slice camera is half-camera, half-photo album, and all about enabling easy sorting and uploads to sites such as Facebook, Flickr, Kodak Gallery, and YouTube.
In addition to 2GB of internal storage, the 14-megapixel camera has a 3.5-inch touchscreen that looks sharp during image playback. You can also tag images of people with their names via an onscreen keyboard, then sort all the images on the device by name. The camera also has a search function for locating images of specific people (just as long as you've already tagged them).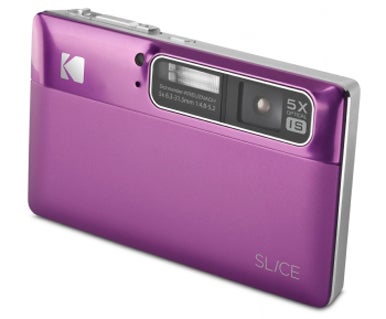 Although it doesn't have built-in wireless connectivity, the Slice does have other sharing-friendly features that are accessed using the camera's onscreen Share button. You can tag images and video for upload to popular sites while they're still on the camera, and plugging the camera into a USB port uploads your content without needing to do much work on the computer end of the equation.
Along with the 2GB of onboard memory, which the company says holds up to 5000 shots, the Slice offers a MicroSD card slot for expanding its storage capacity. The optically stabilized 5X zoom lens ranges from 31.5mm on the wide-angle end to 157.7mm telephoto, and the camera also shoots 720p HD video.
The Kodak Slice is slated for availability in the spring at $350, in black, silver, and the vegetarian-friendly radish pink.
Sub-$200 EasyShare Cameras Include a Pocket Megazoom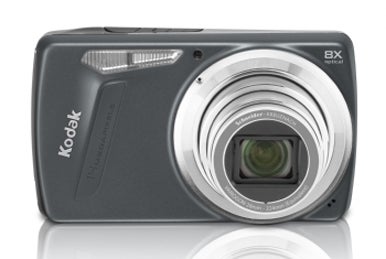 A group of new sub-$200 Kodak EasyShare cams also offer some of the sharing features of the Slice, letting you designate photos for upload to Facebook, YouTube, Flickr, and Kodak Gallery. All of the new M series cameras are due in the spring.
The 14-megapixel Kodak EasyShare M580 is an intriguing $200 pocket megazoom, offering an 8X optical zoom lens (28mm to 224mm). The 5X optical zoom (28mm to 140mm), 14-megapixel Kodak M575 will sell for $180.
Kodak also announced two 12-megapixel compact cameras: the 5X optical zoom EasyShare M550 ($150), and the 3X optical zoom EasyShare M30, which will cost $130.
Read more of our coverage of CES 2010.