High-end music server maker Olive has announced a multiroom networked audio system that combines Olive's servers with loudspeakers from Thiel Audio.
The Olive+Thiel HD Music System adopts a new approach to home audio by connecting Olive's flagship 4+ HD music server to each speaker via Ethernet—eliminating the need for complicated installations or special shielding. Just two cables run to each speaker—the Ethernet cable and the power cable.
Olive says Thiel's speakers use the company's proprietary zet IP technology, which is designed to eliminate latency issues and perfectly synchronize sound to up to four pairs of speakers.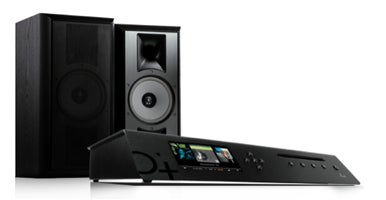 The Olive 4+ HD music server can store 6000 CDs or 20,000 24-bit HD music tracks on its 2TB hard drive. Alternatively, you could attach an iPod, satellite radio, or PC to the server's analog or USB audio inputs to broadcast music to all speakers in the network.
Users can search and select tracks on the server's 4.3-inch touchscreen, while the free iMaestro iPhone app can control the server over Wi-Fi. When listening to music in another room, the server is controlled via a remote control that communicates with an IR sensor on the Ethernet-connected speakers.
"Joining forces on the Olive+THIEL HD Music System allows us to offer a home music experience that plays normal CDs, but also extends the listening experience to the gold-master standard of 24-bit/192 kHz signals—the same quality used by studio recording engineers," said Dr. Oliver Bergmann, founder and CEO of Olive.
The Olive+Thiel HD music server will be available in the U.S. later this month for $7900.