One program that I find indispensable on my Mac is SmileOnMyMac's TextExpander. It lets me define text snippets, such as e-mail signatures, programming code, and so on, and insert them into practically any app via a keyboard shortcut I've assigned to each one. For example, I've set up a multi-line e-mail signature as a snippet which I can insert into an e-mail message by simply typing "bsig." (Snow Leopard has added a similar, but less robust, system-wide capability to Cocoa-based text processing apps.)
Ettore Software has developed a similar Mac utility called TypeIt4Me, and not long ago I reviewed Ettore's TapIt4Me, TypeIt4Me's iPhone counterpart. SmileOnMyMac also released mobile version of its productivity utility called, quite appropriately, TextExpander, so I was anxious to try it out.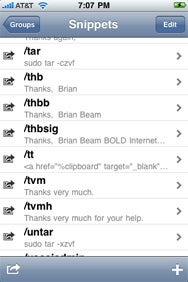 TextExpander and TypeIt4Me work similarly on the Mac and, not surprisingly, so do their iPhone siblings (with one important difference I'll detail below). People who don't own the desktop apps can create their own snippet libraries directly within the iPhone apps while desktop users can copy their snippet libraries to their devices using a variety of techniques. TapIt4Me gives non-desktop-users a nifty way to convert Microsoft Word's AutoText library into a compatible snippet library, but copying your libraries onto your iPhone requires that you upload copies to either a MobileMe account or some other Web server and then download them to your device. If you don't care about the MS Word compatibility, then TextExpander clearly has the advantage here by letting you copy your libraries directly between your Mac and iPhone via Wi-Fi. (This is a big deal for me since I'm constantly tweaking the snippets on my Mac.) Once you have your snippet libraries onto your device, then expanding the snippets is almost identical between apps.
TextExpander and TypeIt4Me are able to do their magic on the Mac because the apps are always running in the background. However, since Apple restricts background processing on the iPhone, both iPhone apps have to provide special notes windows where you compose your text and expand your snippets. Once finished, you can then send the text to the Mail app or to your favorite Twitter app; you also have the option of saving your notes to be reused later.
The iPhone/iPod touch version of TextExpander goes a step further by letting you send your text to the clipboard, where it can be incorporated in almost any text-oriented app on your device. However, here's the kicker… SmileOnMyMac has attempted a very creative end run around Apple's restrictions by supplying a code library that, when added to an app by its developer, gives users the ability to expand TextExpander snippets directly within that app. SmileOnMyMac lists more than a dozen apps featuring TextExpander integration—everything from productivity tools to Twitter clients. The more iPhone app makers who jump on board with TextExpander, the more useful this app becomes.
Although TapIt4Me remains quite capable, TextExpander's easier snippet-copying and additional expansion features have convinced me to switch. As more developers incorporate the TextExpander library into their apps—or if Apple relaxes its restrictions on background processing—this mobile version of TextExpander may approach the usefulness of its Mac counterpart. Hopefully other developers—including Apple—are paying attention and will take action.
[Brian Beam is a web developer and partner with BOLD Internet Solutions, living somewhere near Kansas City.]