At a Glance
Expert's Rating
Our Verdict
Like college football's focus on major conferences, the lower tier companies in the hard drive market are often forgotten. But sometimes, a dark horse can spring out of nowhere and crash the party. Ladies and gentlemen, I give you Ci Design's iStoragePro iT1 Dock. This aluminum shelled desktop drive has a 2TB capacity, a three-year limited warranty, and the designation as the fastest desktop drive we've ever tested.
The iT1 Dock is a quad interface drive that comes with two FireWire 800 ports, an eSATA port, and a USB 2.0 port. The 3.5-inch SATA II hard drive mechanism inside the iT1 Dock is manufactured by Western Digital and comes formatted for Mac OS X as a default. The iT1 Dock has more than enough space to store your Time Machine backups and large files. Suited for both audio/visual professionals and the average consumer, the iT1 Dock is a versatile drive.
The large off-white aluminum exterior offers a perforated drive face that recalls the Mac Pro's iconic front. The unassuming iT1 Dock is heavy and long, weighing five pounds and taking up a significant amount of desktop space. It's a fanless unit, but runs quieter than you'd expect from a 7200-rpm mechanism. The drive's Cool Bay aluminum heat sink does its job well-the unit only felt warm to the touch, but never hot.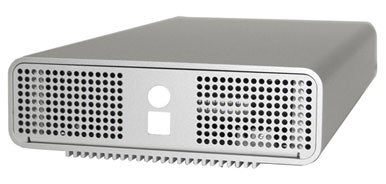 The 2TB of storage capacity may have seemed excessive only a couple of years ago, but users increasingly have larger and larger storage needs. With more personal videos and music files at their disposal, larger capacity drives have seemed more realistic. At $329, the iT1 Dock has a price per gigabyte of 16 cents-fairly cheap compared to most desktop drives on the market currently.
The iT1 Dock turned the fastest copy test times we've ever seen in an external hard drive. Not even the G-RAID mini2 SSD ( ) could best the 27-second test result of the iStorage Pro while utilizing its eSATA connection. The FireWire 800, FireWire 400 and USB times were similarly fast, regularly besting their closest competition by 4 to 5 seconds.
The duplication tests were also worthy of praise. The unit's eSATA score of 32 seconds was only bested by the G-RAID SSD's 28-second time and the CalDigit VR Mini's ( ) record 25-second score. Yet, the iT1 Dock was a step above all competing drives when it came down to testing the other connection types. The iT1 Dock's FireWire 800, FireWire 400, and USB 2.0 duplication scores were faster than anything we've tested—SSD or otherwise.
Our regime of Low-memory Photoshop tests simulates some of the more complicated processes that a hard drive will have to endure. Many fast drives stumble over these tests, but the iT1 Dock did surprisingly well. Finishing the regime of tests in a little over a minute using its eSATA connection, the unit was only bested by the CalDigit VR Mini's time of 52 seconds (our record for non-SSD drives) and the G-RAID SSD (our current record holder).
Timed trials
| | OS 10.5.8 | OS 10.6 |
| --- | --- | --- |
| Copy 1GB file to USB 2.0 | 0:45 | 0:41 |
| Copy 1GB file to FireWire 400 | 0:37 | 0:24 |
| Copy 1GB file to FireWire 800 | 0:29 | 0:25 |
| Copy 1GB file to eSATA | 0:27 | 0:19 |
| Duplicate 1GB file via USB 2.0 | 1:09 | 1:06 |
| Duplicate 1GB file via FireWire 400 | 0:57 | 0:35 |
| Duplicate 1GB file via FireWire 800 | 0:37 | 0:36 |
| Duplicate 1GB file via eSATA | 0:32 | 0:33 |
| Low-memory Photoshop: USB 2.0 | 1:24 | 1:23 |
| Low-memory Photoshop: FireWire 400 | 1:16 | 0:47 |
| Low-memory Photoshop: FireWire 800 | 1:09 | 0:47 |
| Low-memory Photoshop: eSATA | 1:03 | 0:45 |
Scale = Minutes: Seconds
AJA tests
| | Write | Read |
| --- | --- | --- |
| USB | 27.8 MBps | 36.8 MBps |
| FireWire 400 | 56.6 MBps | 82.3 MBps |
| FireWire 800 | 57.2 MBps | 82.3 MBps |
| eSATA | 89.6 MBps | 90.2 MBps |
The iT1 Dock is also significant in that it will be the last drive we review using these previously discussed benchmarks. We've upgraded our benchmarks, making them tougher on drives while at the same time more accurately reflecting the computers users are currently employing with their external hard drives. We've upgraded our test computer to Snow Leopard, added an AJA test that indicates the average read and write speeds for a drive while utilizing a specific connection type, and finally, increased the file size used in our Low-memory Photoshop test. This latter test is especially important because we've found several drives have not been pushed sufficiently by the old test, not having to use their drive's processor and instead just its RAM.
On these new tests, the iT1 Dock performed admirably. Not surprisingly, every copy and duplication test improved with Snow Leopard when compared to the Leopard-based tests. Despite the Photoshop test's new 300MB image, the iT1 Dock improved its times significantly there as well, finishing its eSATA test in 45 seconds.
The AJA test is a new addition to our benchmarking regime. It emulates writing full scale HD, at full color quality, at a reasonable file size. We set the video frame size to 1920 by 1080 at 10-bit RGB and use a 2GB file. The iT1 Dock had overall faster speeds than G-Technology's G-RAID 4TB with its FireWire 400 and 800 connections, similar read/write scores with USB, and slower times with eSATA. The eSATA scores are particularly confusing considering that the iT1 Dock produced better copy and duplication test scores than the G-RAID but lagged slightly behind the G-RAID in the Low Memory Photoshop tests. The reason for this is likely the eSATA card we were testing with. Designed by G-Technology, the RocketRaid 2314 eSATA card would seemingly be more compatible with a G-Technology built hard drive than a Ci Design one. These tests, and the unreliability of eSATA cards to consistently produce results, have led the Macworld Lab to de-emphasize the use of eSATA scores in our reviews. Simply, hard drives react unpredictably with various eSATA cards and do not produce reliable, consistent scores.
Specifications
| | |
| --- | --- |
| Price per gigabyte | $.16 |
| Connectors | USB 2.0 (1), FireWire 800 (1), eSATA (1) |
| Rotational speed | 7200 rpm |
| Other capacities | 500GB, 1TB |
Macworld's buying advice
We're just seeing the first wave of 2TB drives, so the jury is still out on whether the iT1 Dock is truly ahead of the curve. That said, the times are such a leap forward and the capacity is so large that it is an attractive drive for a wide net of users. Prosumers will love the speed, versatility, and large capacity, while your average consumer will enjoy the price per gigabyte, ease of use, and Mac compatibility. Ci Design has a number of impressive drives and is certainly a company to keep an eye on.
[Chris Holt is an associate editor for Macworld.]