So you've joined the growing ranks of the unemployed. Obviously, you're not alone. You need to find a job soon, though, because you need to pay your monthly data charges and, unfortunately, you cannot eat your iPhone or your iPod touch. Turns out, you don't have to. But you can look for gainful employment. The beauty of job-finding applications for your handheld is you can hunt for a new gig while you're waiting in line at the unemployment office.
The downside is the experience may be more depressing than actual unemployment.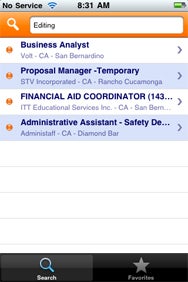 CareerBuilder.com's Jobs app for the iPhone and iPod touch lets you search the 2 million or so listings on the largest job site in the United States. The interface is simple—not beautiful, but functional. It gets the job done, more or less.
Jobs will let you search by ZIP code, city and state. You can also use your device's built-in GPS or geolocation features to find job openings in your proximity. You can turn this feature off and on from the device's main Settings menu or from the app's search screen. Naturally, you need some sort of Internet connection to use the app. You can search by job title and keyword, and read job descriptions and requirements. You can also save jobs to a Favorites list.
The trouble with Jobs is that it adds no value to the iPhone user who is also a CareerBuilder.com client. Certain apps, such as news offerings from the Financial Times and Consumer Reports, give paying subscribers greater access to mobile content. But you can't even sign into your CareerBuilder account on Jobs.
If you want to apply to a job, you need to e-mail the job's listing to yourself and apply when you log in from your laptop or desktop later. That's silly. If you're a CareerBuilder member and your profile and résumé are up to date, you should be able to apply for a job from the application as you would from the Web site. Otherwise, the app is little more than a glorified newspaper classified ad section. And everyone knows what's happened to those.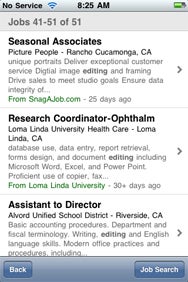 Indeed.com's Job Search app might be equally deserving of the same description. The app searches multiple online job-listing services, which will give you a much broader and deeper set of result. Search for "writing," and enter your current location, and Job Search will return results from RemoteWriting.com, JobFox, oDesk, and more. As with the CareerBuilder app, you cannot apply for a job from the mobile application. You can simply e-mail the information to yourself—or to a friend—and apply later.
The trouble with Job Search in particular is the lack of any advanced search tools. Unlike Indeed.com's Web site, you cannot easily sort, narrow or filter your search results. For example, you cannot sort jobs by date listed. It's entirely too common to wade through listings weeks old before encountering fresher opportunities.
Both applications, however, share the same existential defect—and it's an affliction of all such job search engines. Such sites often serve as little more than Human Resources filters. When I was busily sending out applications and résumés through jobs I found listed on CareerBuilder and elsewhere, I was frustrated at the utter lack of acknowledgment—to say nothing of interest—I encountered. A wise acquaintance remarked that such services "are one tiny degree from cold-calling." A number of my friends and acquaintances who've found themselves out of work over the past year report similar experiences.
Your results may vary, of course. Happy hunting.
[Ben Boychuk is a columnist and freelance writer in Rialto, Calif. Feel free to e-mail him.]