Kensington Computer Products Group, makers of all kinds of iPod and iPhone accessories, has announced eight new peripherals in its lineup: a car charger, two auxiliary audio cables, four different car mounts, and an anti-glare screen.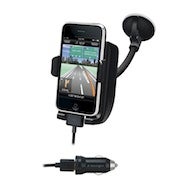 The 2-in-1 Car Charger and AUX Audio Cable includes an iPod and iPhone dock-connector that plugs into that otherwise unused cigarette lighter in your car. The audio cable connects to your stereo's auxiliary port. A USB charger for adding juice to a device other than an iPod distinguishes this model from previous Kensington offerings. The 2-1 Charger will cost $40.
The audio cables both do what you'd expect: provide a single line-in to your car stereo. There is a $10 version and a $20 noise-reducing version that cuts interference from your car's electrical system.
The car mounts come in a variety of flavors. The Power and Mounting kit is designed to turn your iPhone into a GPS unit (if you have a GPS app running). This $50 mount amplifies the built-in iPhone speaker so you can better hear spoken directions. The cradle mounts to your windshield or dash and provides charging capability as well. There are two $40 versions, called the Dash/Friction Mount with Sound Amplified Cradle and the Windshield/Vent Car Mount. Strangely, both of these cradles are largely indistinguishable from their more expensive sibling. Both of these offer sound amplification, too.
The $30 Windshield/Vent Car Mount with Quick Release does just what it says and lets you remove your phone with one hand.
And last but not least is the Anti-Glare Screen Protector for the iPhone 3G and 3GS. Like any good screen protector, this one aims to reduce screen reflection and protect the glass from scratches. The $10 package includes two screen protectors and a cleaning cloth.
The Windshield/Vent Car Mount is available now. Kensington promises that all the other accessories will be ready by the end of March.