Daily Mugshot is a cute, functional, but rather unnecessary app from Pixelated Software. The idea of the free app is simple: You use it to take a photo of your adorable face once a day. It works hand in hand with the DailyMugshot.com Website, which lets you turn your headshots into animated slideshows, if you're into that sort of thing.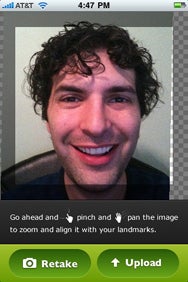 The app suffers from several flaws, not least of which is the fact that the iPhone's camera is on the back of the device. Unless you've got an extremely patient friend or loved one willing to photograph you on a daily basis, you'll need to do the awkward "hold, twist, and pray" move required for iPhone self-portraits. (Or you could turn to still another app such as Camera Genius or Fast Tap Camera that provides some self-portrait functionality.)
Once you've managed to snap your photo, Daily Mugshot lets you pinch and zoom to align it with landmarks you set on your first photo, so that each day's mugshot lines up with all the others. (You can only set those landmarks on the Website itself.) The big problem is that those landmarks rarely load, and when they do, it takes ages. Pinching and zooming also seems more finicky and frustrating than in other apps that enable such manipulations.
If you really want to take a photo of your face each day, use your computer's webcam and the Daily Mugshot Website, which isn't weakened by the frustrations and awkward posing of the iPhone app.
[ Lex Friedman is a frequent Macworld contributor.]