Guess the News, a new puzzle game from Finger Arts, can best be described as Wheel of Fortune for news junkies. Using headlines from continually updated stories, the game tests your vocabulary, spelling, and news savvy all while keeping you up-to-date with current events.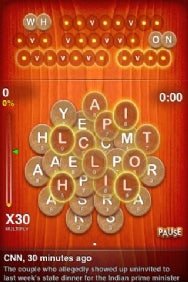 The game is extraordinarily simple and intuitive: After you select your country, you choose either a "classic" or timed game, one of ten news categories (National, Health, Sports, etc.), and your preference of difficulty. Generally, selecting "easy" gives you short headlines with most of the letters already filled in, while selecting "difficult" gives you headlines with longer titles with only two or three letters filled in to start you off.
Each round starts with a display of empty spaces and a news summary from a source like CNN or Reuters. This helps you figure out the context of the headline and the major characters in the story, which makes it a lot easier to guess the words.
All of the necessary letters are displayed in front of you like Scrabble pieces, with the word you're working on is highlighted for you. You must tap the letters in correct order to finish each word before you move onto the next, and the vowels are marked to give you an idea of the word's structure. If you're stuck and idle for a bit, an arrow will point to the correct letter to help you along.
And that's about it. You can win trophies for completing a certain succession of headlines, but mostly you go for the high score or race against a clock. Each letter is assigned a point score, and you can lose points for misplacing a letter or gain them for finishing a headline particularly quickly.
While it lacks multiplayer or unlockable content, Guess the News is a perfect brainteaser to pick up and put down when you have a few minutes to kill, and plus, you're learning! Not a lot of other games can say that.
[Meghann Myers is an editorial intern for Macworld.]