It's fun to wear your own artwork on a T-shirt, and easier than ever to do so without resorting to poor-quality, iron-on transfers. Services such as Zazzle, RedBubble, and Printfection (and many others) let you upload artwork, choose a color, and place an order.
Designing your tee
A good tee design has clean lines and crisp contrast; ideally, you want people to be able to see and comprehend the shirt design from 20 feet away. Text should easy to read (unless you intend it as a background element) and characters, creatures, and objects should be easy to identify. You'll also want to design with a specific shirt color in mind so that your final artwork really pops; for example, white text stands out on a deep green shirt whereas navy text would be lost.
Because tees are a different medium than print, there are a number of technical considerations to keep in mind as you design your shirt.
1. Choose a service and a style of shirt before you jump into the design process. Once you know the target resolution, you can create a new document with those exact dimensions. In Photoshop CS4 ( ) choose File -> New and enter a name for your document. Enter the pixel width and height along with pixels-per-inch (ppi) resolution (if that has been specified) and then click OK. In Illustrator CS4 ( ), choose File -> New. Give the file a name, enter the width and height in pixels, and click OK.
Note that I'm demonstrating this technique using Photoshop CS4, but you can use earlier versions of Photoshop, Photoshop Elements, and other image editing or drawing programs that you may have, provided they are capable of creating an appropriate document for the printing service you choose.
2. Your final design should be masked; that is, the artwork should be fully opaque and the surrounding area transparent. However, it can be difficult to design on a transparent background, especially if you want to use white text. In that case, it's best to create a solid color background layer that approximates the color of the final shirt; you can turn this layer off before you export the file.
3. Don't expect on-demand garment printing technologies to deliver the same color quality and sharpness you're used to with your color photo printer. Color accuracy and color saturation vary among services, and the overall color of the print is typically tinted by the underlying shirt color. As a result, it's a good idea to oversaturate colors in your design—even if they look a bit glaring on your screen—to compensate. You should also avoid using gradients and partial transparencies that cover large areas of your design; garment printers sometimes struggle to cope with these kinds of transitions and results can be unpredictable.
Choosing a service
There are a number of online services that can put your artwork on a tee, offering you a choice of colors and, in many cases, style of shirt. Here's a look at three popular services, what they offer, and their artwork requirements.
Zazzle sells shirts in dozens of styles for men, women, kids, and babies in multiple colors (which vary by style). American Apparel and Bella shirt brands are available; pricing for no-brand, 100 percent cotton shirts begins at about $18. Artwork requirements vary depending on location, but all artwork is printed at 150 ppi. Zazzle recommends a resolution of 600-by-600 for pocket images; 1800-by-2100 for vertical images (typically the front of shirts), and 2100-by-1800 for horizontal images (typically the back of shirts). Zazzle's shirt printing technology does not print white ink on light-colored shirts; instead, white areas are treated as transparent. White ink can be used on dark shirts, however.
Printfection offers traditional t-shirts, ringer t-shirts, and ribbed t-shirts for men, women, girls, and kids. Shirts are Gildan UltraCotten and are available in over 30 colors; pricing starts at about $15. Recommended artwork requirements are JPEG or PNG format. Front and back images can have a maximum resolution of 2700-by-3300 (at 200 ppi); pocket images should be 1000-by-1000 (at 200 ppi). Printfection's shirt printing technology is similar to Zazzle's: white is not printed on light-colored shirts; only on dark-colored shirts.
RedBubble, a service I've used at various points, lets you choose standard tees, girly tees, v-necks, and long sleeve shirts in over 20 colors. Shirts are American Apparel brand, and pricing starts at $20. Artwork requirements are PNG format with a resolution of 2400-by-3200 (no ppi specified); front of shirt only. RedBubble's shirt printing technology can use white ink on shirts of all colors.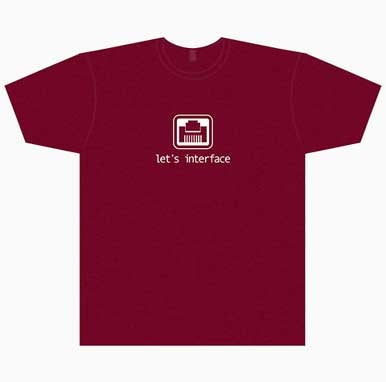 If any of these three sites fail to meet your requirements, you can also consider CafePress, Spreadshirt (European), or T-Shirt Monster (Canadian). Remember, every service has its own nuances and artwork requirements will vary; to ensure there are no surprises, take some time to read the service's tutorials and FAQs.
Preparing your artwork
All services require raster artwork, typically in JPEG or PNG; of these two formats, PNG is preferred because it can include transparency.
Artwork created in Photoshop is already in a raster format, but you'll need to make a few cross-checks before you can export it as PNG. First, turn off the background color layer we referenced earlier; all areas around your artwork should be transparent. Now inspect the edges of the artwork to ensure there aren't any unusual jagged edges, graphic artifacts, or partially transparent areas. Finally, choose File -> Save As, select PNG from the Format pop-up menu, and click Save.
Vector artwork will need to be converted to raster format before you can upload it. Open your artwork in Adobe Illustrator or the drawing program you're using and turn off any layers you do not want to appear in the final picture (including the background color layer). Although you can export PNG directly from Illustrator, the anti-aliasing is a bit rough; for smoother edges, you'll want to open the Illustrator file with Photoshop and then save it as a PNG. Illustrator saves files in a PDF-compatible file by default, but if you've accidentally deselected that option, simply choose File -> Save As, click Save, and then make sure the option to Create PDF Compatible File is checked.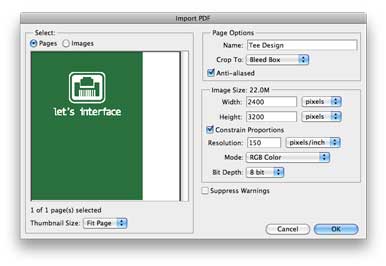 Now open the file with Photoshop; in a moment, you'll see the Import PDF dialog box. Choose to Crop to: Bleed Box, set the resolution to 72 pixels per inch and click OK. Once your artwork loads, you can change the pixels-per-inch resolution to meet the service's requirements. Choose Image -> Image Size. First, uncheck the option to Resample Image; then enter the correct pixel per inch resolution and click OK. As a last step, choose File -> Save, select PNG from the Format pop-up menu, and click Save.
Placing your order
When your artwork is finalized, it's simply a matter of signing up for a service, uploading your artwork, and placing your order. Most services also allow you to sell the tees you design directly from their site. So if you're proud of your work, promote it in forums, on your blog, and on your Twitter feed. Who knows? T-shirt design could become a fun sideline for you!
[Chris McVeigh is an author, illustrator, and toy photographer based in Halifax, Nova Scotia.]