Editor's Note: The following article is reprinted from Macworld UK. Visit Macworld UK's blog page for the latest Mac news from across the Atlantic.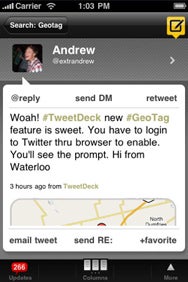 The iPhone and iPod touch version of TweetDeck, an Adobe AIR-based desktop Twitter client, has been updated with a range of new features designed to bring the mobile application in line with the desktop one.
You can now take your Twitter Lists with you wherever you go by adding columns to your TweetDeck for iPhone. Users can now choose which method they want to use each time they retweet, new or old style, with the ability to remember and change preferences.
Enable geo-tagging, and your TweetDeck tweets will be automatically tagged with your current location from the GPS in your iPhone. An inline map in the tweet detail screen shows location of tweets.
A new View on Map feature takes all the geo-coded tweets from the column you choose and plots them on a map. You can then see in an instant where all your Twitter friends are at the moment and can zoom in for more details.
The update also fixes various bugs including an issue that was affecting a lot of users when trying to add their Facebook account.
Available from the App Store, TweetDeck For iPhone is free and requires the iPhone 2.2.1 Software Update.