Editor's Note: The following article is reprinted from the Today @ PC World blog at PCWorld.com.
If you're a Netflix junkie and a closet Twilight fan (and you live in a major U.S. city), your rental habits are now on display. The New York Times has launched a cool interactive map that shows the most popular Netflix rentals across 12 U.S. metropolitan areas: New York, San Francisco/Bay Area, Boston, Chicago, Washington, Los Angeles, Seattle, Minneapolis, Denver, Atlanta, Dallas, and Miami.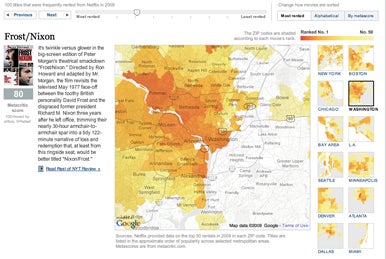 To create the map the NYT partnered with Netflix. The map is a graphical database of the top 100 most-rented Netflix films of 2009 laid on top of maps. With it you to graphically explore top 2009 Netflix movies based on three criteria; films that were hated/loved by critics, an alphabetical list, and most rented. For example, select most rented, and when you mouse-over a ZIP code up pops a window showing you what the top Netflix rentals are for that specific region.
Some trends are not surprising: the most Netflixed movie of 2009 was The Curious Case of Benjamin Button, though Slumdog Millionaire and Twilight were both in the top ten. Milk, the story of San Franciscan activist Harvey Milk, was popular in San Francisco and other city centers, but not so much in the suburbs of southern cities (such as Dallas and Atlanta). Mad Men, the 1960s-set drama about advertising execs, was hot in parts of Manhattan and Brooklyn, but not in any other major cities. (It barely got mention in Denver and Dallas, and not at all in Miami).
The map does show some interesting trends: Big blockbusters were not as popular in city centers (Wanted and Transformers: Revenge of the Fallen, barely made a splash in the city centers of Manhattan and San Francisco), though this could be due to the fact that a lot of people see blockbusters in movie theaters. Last Chance Harvey, a romantic comedy starring Dustin Hoffman and Emma Thompson, was enjoyed in wealthier suburbs (such as Scarsdale), but not in city centers (such as Manhattan). Tyler Perry's movies (Tyler Perry's Madea Goes to Jail and Tyler Perry's The Family That Preys) were popular in predominantly black neighborhoods.
As for PC World's neighborhood? We're in San Francisco, so the most popular movie was not surprisingly Milk, followed by The Curious Case of Benjamin Button and The Wrestler. We are also proud to say that Twilight was not in the top ten for ZIP code 94107 (though it was number 13).