Memeo and Google today announced MemeoConnect for Google Docs. The cross-platform app allows Google Apps Premier Edition customers to sync documents of any type via Google Docs. It will be available for download as of January 18.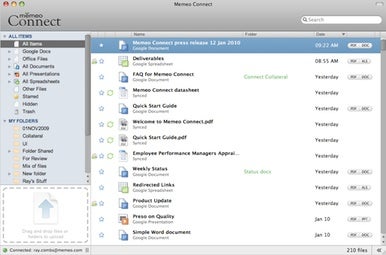 Until now, Google Docs has been limited to sharing and collaboration to Google's own format of office-type documents—word processing files, spreadsheets, and presentation. MemoConnect enables users to sync Microsoft Office documents, videos, photos, and anything else. Simply dragging files and folders from your desktop into MemeoConnect uploads them to Google's servers.
Just as it has for other filetypes previously, MemeoConnect for Google Docs will store a revision history for any files you upload. And when you drag a folder into the app, Google automatically recreates the full file structure on its end as well.
In many ways, MemeoConnect is a premium and Google-integrated Dropbox competitor, although it currently lacks the OS X file system tie-ins that Dropbox employs. Obviously, given the Google Apps Premier Edition integration, MemeoConnect is targeting enterprise customers, particularly at the small- and midsize-business level. The software requires Mac OS X 10.5 or later and a Google Apps Premier Edition account; licenses for MemeoConnect will run $9 per user, per year.