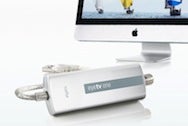 Elgato has announced another television tuner for the Mac, the EyeTV One. It's specifically designed to work with a digital antenna to deliver free, over-the-air HD broadcasts to your computer.
Elgato has long been in the business of providing TV tuners and software that turn your Mac into a capable DVR. If you've decided to save lots of dough on cable or satellite subscriptions, the EyeTV One may be just the thing you want to watch, record, and pause live television. You connect the tuner to your antenna with a coaxial cable, and the tuner itself plugs into your Mac's USB port. (Incidentally, there's support for PCs and Windows Media Center, too)
Included in the package is Eye TV 3, the software that integrates with a program guide and lets you schedule recordings, edit content, and share what you've recorded across your local network. The software also plays nice with the EyeTV iPhone app, which lets you stream live or recorded TV to your phone.
The EyeTV One differs from the well-known and more expensive EyeTV Hybrid, which can receive analog and digital cable signals as well as FM radio (and also comes with a remote). The Eye TV One is available now for $120.