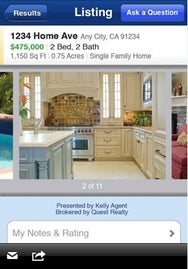 Realtor.com, the Website of the National Association of Realtors, has released Real Estate Search, a free app that will help you buy and sell residential properties.
If you want to find the perfect house anywhere in the U.S., you can use the app to access more than 4 million listings in the Multiple Listing Service (MLS) database. If, however, you are stuck on a particular location, you can limit your search by city, state, zip code, or even MLS number.
If your eyes are bigger than your wallet, you can view the whole range of properties or you can refine your search by price, as well as number of bedrooms, bathrooms, square footage, lot size, and age of property. Results are displayed in list or map form, although the mapping feature is somewhat inconsistent.
If you enjoy driving or walking through a neighborhood and playing "guess the price" on all of those houses for sale, Real Estate Search can use your location to get the details about the properties you are seeing. This is also a useful feature when you are about to put your house on the market and want the dirt on the competition, since you can view multiple large photos and detailed property features.
And for those whose hobbies include spending your weekends going to every open house in the area, whether you are home or traveling, the app provides times, dates, and locations for these events. A key feature for serious real estate gamers is that Real Estate Search updates every 15 minutes, so you can beat everyone else to the new and reduced price listings.
Although you can search and view all results without setting up an account, registering allows you to save searches and listings, and access them later from the app or the Realtor.com website. Registering also allows you to rate and take notes about properties, using a combination of typing and a quick entry feature—great for telling Suzanne Whang why you want house one, two, or three!