At a Glance
Expert's Rating
Our Verdict
Bluetooth isn't just for hands-free cell phone calls. The technology can also support the Advanced Audio Distribution Profile (A2DP), which allows for wireless stereo streaming, and Audio/Video Remote Control Profile (AVRCP), which supports remote interactions between devices. In other words, with the right equipment, you can stream music from your iPhone or Mac to wireless speakers, and even control playback of that music from the speaker system itself. (Bluetooth-enabled Macs support A2DP if they're running Mac OS X 10.5 or later. Any iPhone or second-generation iPod touch running iPhone OS 3.0 or later also supports A2DP.) When used with an iPhone, many A2DP speakers can also serve as Bluetooth speakerphones.
Generally, the process—called pairing—required to get an A2DP speaker system working with your Mac or iPhone is simple: You enable Bluetooth on your Mac or iPhone, look for devices (in Settings: General: Bluetooth on the iPhone or using Bluetooth Setup Assistant on your Mac), and pair one with the other. Pairing is usually straightforward and generally takes just a few seconds.
Interestingly, Apple's support for A2DP differs substantially between Macs and iPhones. When you pair Bluetooth speakers with your Mac, you can adjust the remote speaker system's volume from the computer, and you can play, pause, and skip tracks using the speaker's buttons (assuming it offers such playback-control buttons). With the iPhone, though, volume control is limited to the hardware buttons on the speaker itself, and you can only pause and restart playback, not change tracks. These iPhone limitations are Apple's doing and can be quite frustrating given that other Bluetooth phones and media players have supported such functionality for years. I hope a future iPhone OS update will enable these features.
I looked at (and listened to!) five Bluetooth speaker systems, testing them with both an iPhone and a Mac. Each of the systems offered varying levels of sound quality, a unique look, and different features. Dig in to see how they stack up.
CyFi Wireless Sports Speaker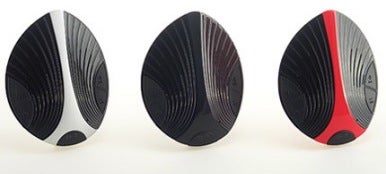 MyCyFi's Wireless Sports Speaker looks awesome. It's shaped like an aerodynamic bicycle helmet, which makes sense: It's packaged with hardware to mount the speaker to a bicycle's handlebars. It's also designed to be rugged enough to use while enjoying other outdoor activities, such as boating and camping. That ruggedness, unfortunately, makes the CyFi's buttons surprisingly difficult to press, and the button design—black icons on black buttons—makes it difficult to identify which is which, even in bright sunlight. The speaker includes a charging base, and a fully-charged Sports Speaker can play for nearly six hours. The CyFi's manual is rather frustrating, but getting the device paired and working isn't too complicated.
Given the Sports Speaker's focus on outdoor use, it's not surprising that the speaker can get very loud. However, while it does offer stereo playback, the system's small size (just 4 inches across at its widest point) limits stereo imaging. And the sound of the CyFi unit is clearly geared towards the athlete, not the audiophile: The speaker packs little bass punch, and the overall sound is very tinny. If you're a cyclist looking to enjoy some tunes on your rides, a speaker is certainly a safer option than headphones, and the CyFi is an adequate choice for entertaining an outdoor crowd via your iPhone. But the system's sound is the weakest of the speakers I tested, and is too muddled for serious listening. It's the CyFi's cycling focus and compatibility that earns it a limited recommendation here.
The Wireless Sports Speaker's performance as a speakerphone is adequate, although I found that the speaker volume needs to be cranked up to the maximum to hear the person on the other end. The folks I called said that they could hear me fine, though wind noise became a factor when I tried to use the phone while biking.
Spracht Aura BluNote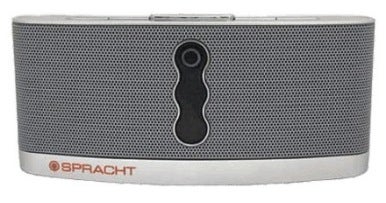 The Aura BluNote from Spracht is a small (7 inches wide by 3 inches tall by 1.3 inches thick), curved speaker. Instructions for pairing the speaker are printed on the back of the device itself, which is a nice touch. The speaker paired with my Mac and iPhone quickly, and the system's built-in memory allows it to remember how to pair with up to eight devices. However, the BluNote doesn't include buttons for pausing playback or skipping tracks—a tremendous oversight for a device that claims to cater to music playback.
The BluNote can run for up to 10 hours on four AA batteries (included). You can also power the speaker using the included AC adapter. A 1/8-inch (3.5mm) line-in port lets you connect the system with a non-Bluetooth audio source.
On the plus side, the BluNote can sound pretty good. For a speaker of its size, the sound is impressively large—the BluNote filled my office respectably. Two buttons directly impact the audio: Bass boost does just what you'd expect, and is essentially a necessity—the speaker sounds tinny and skews strongly towards treble frequencies without it. The boosted bass sounds a bit hollow for my taste, but with the feature enabled, upper bass is certainly present and solid. The second audio button is for a feature called Stereo Widening. Meant to simulate a 3D audio experience, it seems to add reverb and enhance left- and right-channel panning. However, I found most songs suffered with this feature enabled; it gave the audio a noticeably "muffled" character. With bass boost turned on and Widening off, though, the BluNote sounds pretty good for a portable speaker.
Phone calls sounded fine with the Aura BluNote, although everyone I called knew immediately that I was using a speakerphone; they also reported a slight buzz whenever I spoke.
Yubz Magnum

Yubz's Magnum is an awesome-looking, faux-leather-covered tube, 9 inches long and about 3 inches in diameter. It comes packaged with a zippered, padded carrying case and a shoulder strap. As with the BluNote, you can power the Magnum using the included AC adapter or four AA batteries (not included).
The system's power cable is annoyingly short, but far more annoying—to the point of frustration—is the Magnum's interface. The black model we tested (the system is also available in tan, green, and red) sports seven tiny, nearly identical black-on-black buttons, all in a straight line, which take far too much effort to tell apart. But even if we could tell them apart, two of the buttons were backwards on our review unit: the Previous button advanced to the next track, and the Next button skipped to the previous track. To add to the confusion, one of those seven "buttons" actually isn't a button at all—it's the microphone for the speakerphone, mysteriously designed to appear identical to the six buttons on either side of it.
The Magnum provides a line-in jack, although the jack is unmarked and positioned next to the identically shaped AC-adapter jack—a truly maddening example of form over function, as I often tried to plug an audio cable into the power jack or the power cable into the audio jack. Fortunately, the Magnum enters pairing mode instantly when you first turn it on, so you won't need to push any of those hard-to-distinguish buttons.
How does the Magnum sound? Amazing, given the size. Despite the Magnum's good looks, I didn't expect to be impressed by its audio quality, but bass response is strong, audio range is good, and the speaker can get surprisingly loud. Since the system's left and right speakers are on opposite ends of the tube, the Magnum also does a better job of creating a true stereo effect than some of its competitors. Snare drums and higher-frequency vocals get a bit muddled at times, but on the whole the Magnum sounds very nice, and that performance makes it easier to live with the system's control deficiencies. If you can center the speaker in a room or in front of you—which, on AC power, may require an extension thanks to the too-short AC cord—the sound won't disappoint.
As a speakerphone, the Magnum works a little better than the other speakers I tested; people I called indicated that I sounded like I was talking on a headset.
Altec Lansing SoundBlade Wireless Speaker System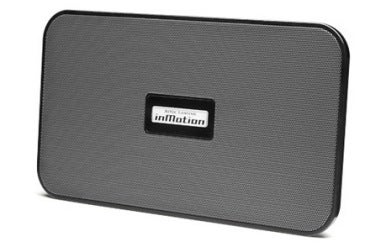 The Altec Lansing SoundBlade is the largest speaker I tested, at approximately 11 inches wide by 6 inches tall, though less than an inch thick. In a brilliant and much-appreciated change of pace, its buttons are clearly labeled, in white on black, across the top of the device, and are as easy to press as they are to read. The SoundBlade can be powered by the included AC adapter or six AA batteries (not included). On the back of the SoundBlade is a small button that unlocks a flip-down stand that also hides the AC-power and auxiliary-in jacks. The SoundBlade includes a thin carrying bag that doesn't offer much cushioning but should help keep the speaker looking pretty.
Pairing the SoundBlade with your iPhone, iPod touch, or computer is a little more work than it should be, and instructions in the included quick-start guide didn't work for me at all. Following the instructions in the lengthier manual, though, worked fine; those steps included an extra button push to put the speaker in pairing mode. Oddly, to place calls with the speakerphone, you press the "back one track" button, rather than the button with the phone icon. It's not a huge deal once you get used to it, .
As you may have noticed, I've been impressed at the loudness a number of these Bluetooth speakers can achieve. That's especially true for the SoundBlade, which can fill a large room. I'd be comfortable relying on the SoundBlade to provide the ambient audio at a small party—its sound is that full. Thanks to SRS Labs' TruBass technology, the SoundBlade also provides ample upper-bass presence, and there's none of the tinniness found in many speakers of this size, although I did occasionally hear a small amount of treble distortion at louder volumes. Still, the overall sound was impressive.
On the other hand, the SoundBlade's speakerphone performance was only average. I found I needed to be right on top of its built-in microphone to be heard by those on the other end of my calls.
Soundmatters FoxL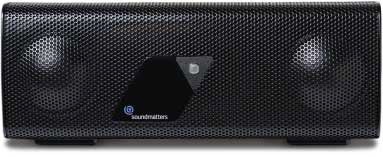 If I didn't have high expectations for the Magnum, I really didn't expect much from Soundmatter's FoxL. This diminutive speaker is almost comically tiny, just 5.5 inches wide, 2 inches tall, and barely more than an inch thick. Like the SoundBlade, the speaker includes a fold-out stand, though this one popped off about half the times I opened it. The box includes a tiny carrying pouch for the speaker, an AC adapter, and a USB cable (for slower, computer-based charging). The built-in rechargeable battery takes four hours to charge, and provides music for five hours. The FoxL includes an auxiliary-in port, and you can even connect a subwoofer to boost the bass. The speaker has volume-control buttons and a power switch, but disappointingly lacks any track or pause buttons. Pairing the FoxL is simple, and the system reconnects to your phone or computer just by turning on the FoxL.
About that subwoofer? You won't need it. The FoxL's sound is jaw-droppingly big, in dramatic inverse proportion to its size. Upper-bass response is very impressive for such a small device, especially when the FoxL is positioned near a wall. (The packaging includes a miniature rubber mat to prevent the speaker from hopping across the table as it plays; you'll need that mat with bass-heavy music.) The FoxL automatically reduces volume a bit when powered off the built-in battery, but even then it gets very loud. Overall, the FoxL actually sounds beefier than the not-too-shabby-itself SoundBlade—the audio here is, frankly, amazing given the size of what's producing it.
The speakerphone function of the FoxL is, unfortunately, much too quiet. I had to pump up the volume to hear the person on the other end…which meant I nearly blew out my eardrums when the music automatically resumed—at full volume—after I hung up a call. The folks I called heard an occasional echo when they spoke, but said that I sounded fine.
Macworld's buying advice
Each of these speaker system has disadvantages compared to a traditional portable iPod/iPhone dock. For example, sending audio over Bluetooth drains your device's battery much faster than a direct connection, and none of these speakers can charge your iPhone or iPod touch like a dock-based system could. On the other hand, Bluetooth speakers work wirelessly, letting you keep using your iPhone or iPod touch in your hand, and they can also pair with your Mac.
Bluetooth Speakers Feature Comparison
| Product | Rating | Price | Skip Tracks | Aux. Input | Rechrg. Battery | Run Time |
| --- | --- | --- | --- | --- | --- | --- |
| CyFi | | $149 | Yes | No | Yes | 6 hours |
| BluNote | | $99 | No | Yes | No | 10 hours |
| Magnum | | $110 | Yes | Yes | No | 6 to 10 hours |
| SoundBlade | | $130 | Yes | Yes | No | 9 hours |
| FoxL | | $199 | No | Yes | Yes | 5 hours |
Battery times are vendor estimates.
Of the systems I tested, the Soundblade and FoxL are clearly the two best. The FoxL is painfully close to excellence: If you could control playback from the speaker and if the speakerphone volume were a bit louder, there would be no competition at all—and another mouse added to its rating. Still, on sound alone, the FoxL clearly wins. But the Soundblade provides a bit more functionality in terms of navigating your music, and its stand feels more solid, while still offering very good sound. If portability or sound quality is your number one goal, go with the pocket-sized FoxL. If you'd instead prefer better control over your music playback, the Soundblade is still a great choice.
Update 1/15/2010, 2:55pm: Corrected error regarding AVRCP.