Emergency City, developed by LightFoot Games, is a challenging and fast paced game full of frantic nail-biting action. The city's mayor has put you in charge of the fire department, police station and the hospital. As emergencies like fires, shootouts and viruses arise you have to route the appropriate response vehicles to the scene of the incident before things get out of hand.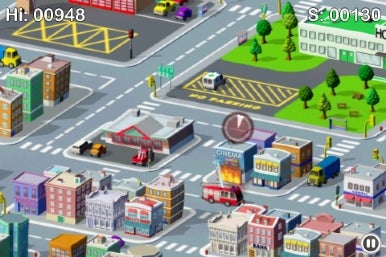 Emergency City sports a beautifully rendered 3D cityscape with everything from skyscrapers to suburbs. You can pan around the city by dragging your finger but unfortunately, there's no way to zoom in or out. Whenever an emergency takes place a dot pops up on the screen to mark its location and act as a countdown timer. To remedy the problem you just tap the dot and then the appropriate response vehicle to send them over to handle the situation before time runs out. Everything seems easy at first but soon enough you have so many emergencies happening at the same time with vehicles rushing all over the map that things get much more complicated. One of the more challenging aspects of the game is the fact that after an emergency vehicle has handled one problem they start driving back to their station and you have to find them en-route and redirect them to the next emergency.
The standard game mode is "survival" where you just keep going as long as you can racking up points. Once you're unable to keep up (either the emergency or the timer expires) the mayor fires you and it's game over.
Emergency City has great graphics, frantically paced gameplay, and plenty of replay value for just a buck.
[Tim Mercer is a technology enthusiast, graphic designer, and blogger, whose blog, digital-artist-toolbox.com, offers free resources to the digital artist and graphic designer.]