Between the iPhone and some of the new technology available to mobile users, we're getting very close to the sports fan's dream of being able to watch your favorite team anywhere, anytime. NBA League Pass Mobile, powered by MobiTV, allows you to watch almost any NBA game live on your iPhone. (Standard blackout restrictions apply, and the app is only available in the U.S.). It should be noted at the onset that this is an expensive app—currently $40—aimed at die-hard NBA fans who don't want to miss a minute of their team in action.
NBA League Pass Mobile is broken up into four main sections: Live, Replay, Schedule, and Highlights. You can quickly move to each section by selecting it from the bottom bar of the app.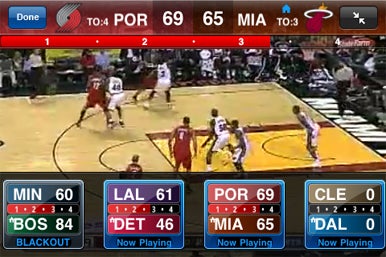 The Live section contains the real meat of the app—it shows you a list of what games are happening live at the time, as well as a schedule of the upcoming live games. A toggle at the top of the window allows you to filter only the live games that are happening at the moment. If there are none, NBA League Pass Mobile shows you the upcoming games by default.
You can select from a number of push notification options that can tell you when when specific games start as well as when all games by individual teams start. Make sure that you have the main push notification settings enabled for the app in the iPhone's settings app though—I didn't realize it was turned off, and I selected a game-start notification within League Pass which, as you can probably guess, never came. Most other apps I've worked with have prompted me to turn on notifications when I've tried to select one from within an app, so this seems like a bug in NBA League Pass Mobile that a future update should address.
Once you start watching a live game, the app's screen shifts to landscape mode, and you can watch all the action over Wi-Fi or 3G. One of the coolest features about watching a live game is the menu that pops up at your command over the in-progress game. Tap the screen, and you can toggle between a live league scoreboard or real-time game stats. You can stay on top of everything—from your center's rebound totals to how those pesky Cavs are doing in Dallas—without ever navigating away from the game play.
The Replay section is nearly as valuable as the live section. No longer do you have to wait for SportsCenter highlights or hope you remembered to record the game if you weren't able to catch it live. League Pass's Replay section keeps all the latest games available for 48 hours after they ended. In a particularly nice touch, you can scroll through replays with your finger to watch different sections of the game—skip ahead to the fourth quarter, for example. I did notice that quickly jumping ahead during the replays caused the app to choke up a bit (and even quite a few times), so go easy on this, especially as the video is loading.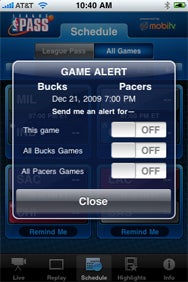 Schedule is a straightforward section offering you a look at the current day's slate of games; you can see games up to a week or so in advance. Schedule also lists if a game will be shown live on League Pass—helpful for planning. You can set reminder notifications there as well.
Highlights features clips produced by NBA.com broken down into three key areas—The Daily Zap, Top 10 Plays of the Day, and Nightly Notables. These highlights are a great way to quickly catch up on other action around the league that you may have missed.
NBA League pass does a great job of making live games and highlights available to the serious NBA fan, but it's still not the complete NBA app. There is no way to view the league standings. Statistics are only available in-game while watching live. Adding some of these basic features would really help make NBA League Pass Mobile as well-rounded as the audio-only NBA Game Time app.
While there's still room for improvement, if you're the type of NBA fan that can't stand to miss one of your team's games, NBA League Pass may be the app that you've been waiting for.
[Macworld contributor Beau Colburn lives in Boston and posts iPhone photos on his site Snap Different.]