To FileMaker, Bento is more than just an option for individual users who need the organizational power of a database application but might otherwise be overwhelmed by the features in the company's flagship FileMaker Pro offering. It's also a valuable application for the small office/home office market when it comes to organizing data on existing customers and would-be clients. So it stands to reason that FileMaker might offer something to make Bento more enticing to small businesses and professional users.
That something, in this case, is the Bento 3 Contact and Customer Manager. FileMaker unveiled the add-on, which includes a trial version of the Bento 3 personal database application, on Wednesday.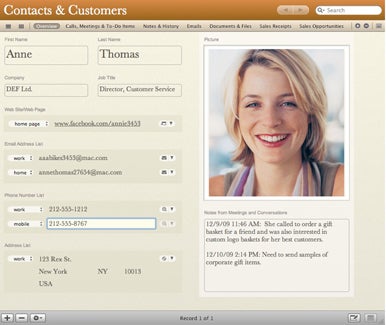 Bento 3 Contact and Customer Manager offers a customized set of three new templates aimed at helping users organize contacts and customer details in a single location. Those templates include customer and client contacts, sales receipts, and sales opportunities.
According to FileMaker, the templates let Bento users store details on completed and upcoming calls in addition to meetings and to-do items for each contact linked from iCal. The templates can also store date- and time-stamped notes from meetings, and users can attach spreadsheets, images, and e-mails to any contact record.
In addition to working with Bento 3, the Contact and Customer Manager offering also works with FileMaker's mobile version of Bento, enabling iPhone and iPod touch users to organize contacts and activities on their mobile device and then sync the data to their Mac.
Bento 3 Contact and Customer Manager requires Mac OS X 10.5.7 or later. It comes with a 30-day trial version of Bento; users can buy the full version of the application for $49. Existing Bento 3 users will have access to the Contact and Customer Manager templates as well, according to FileMaker.
Updated at 1:57 p.m. PT to clarify that Bento 3 Contact and Custom Manager is available to existing Bento users as well.