Even with an OS well into its third generation, the iPhone and iPod touch—"smart" as they may be—still have absolutely zero support for managing tasks out of the box. You know, tasks: those things in iCal that we all have good intentions of checking off. Wouldn't it be great to sync those tasks from iCal and keep pushing back their deadlines while you're out and about? Thanks to a handful of iPhone apps, you can.
Hey look, I successfully avoided using the "app for that" cliché. Or did I?
Mac apps like BusyCal and Today 2.0 have rejuvenated my interest in using Mac OS X's iCal ecosystem for managing tasks, so I went on the hunt to find iPhone apps that sync directly with iCal.
Now there are some big-hitting task managers, like Culture Code's Things and Omni Group's OmniFocus, that sync with iCal, but they require full-fledged desktop counterparts for that syncing. I wanted to stick with apps that work directly with iCal, and I found four: iTaskPro, iPronto To Do, ToDo, and 2Do. The one collective bummer about every one of these apps, however, is that they all require Wi-Fi syncing and the installation of a (free in most cases) sync helper on your Mac, or in one case, your PC.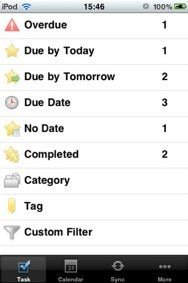 The first app in this group is iTaskPro from Innovation Technology Inc. It doesn't look particularly well designed, but it supports multiple calendars (though, in fact, all of these apps do), and you can also attach voice, picture, and text notes to tasks. You can search and tag tasks and not only sync with iCal on the Mac, but also with Outlook on Windows. Unfortunately, Innovation Technology is the only maker in this bunch that charges for its Wi-Fi sync helper, and it's a whopping $30 for each helper. What's worse: that's a sale price, down from $40. But if you need a cross-platform, syncing iPhone task manager, it looks like iTaskPro is the only one, and the iPhone app will run you $2 for the privilege.
iPronto To Do from Merchon Cottrell seems to have a more refined, though generic iPhone interface, boasting a quick entry area and various criteria by which to sort tasks. It can also back up your data via FTP, which is nice if you don't care solely about syncing with iCal. iPronto To Do costs $2.
Todo from Appigo is more of a "big daddy" of iPhone task management apps that can sync, because boy, can it sync. In addition to iCal, Todo can also sync with two web-based task managers: Toodledo and Remember The Milk (if you have a $25/year Pro account), though it only syncs with one service at a time. Todo also boasts support for push notifications; project management via sub-tasks; support for landscape orientation; drag-and-drop sorting; GTD features like contexts and tags; a polished, standard iPhone interface; and plenty of other features. It also lets you create tasks with "actions," so you can attach a contact name to call them right from Todo, or visit a URL with a basic, built-in browser. A free lite version is available, though it's unclear exactly what its limitations are. Todo costs $10.
2Do from Guided Ways Technologies is the most interesting of the bunch, sporting a very unique, flexible, and elegant interface. A plethora of preferences allows for customization of everything from calendar colors to the app's icon badge and which list is displayed on launch. 2Do does push notifications, "Smart Calendars," task "Actions" (making a call, visiting a URL or map, etc.), a clever landscape view with a 30-day calendar and task list, visual themes, and it will even let you protect individual calendars or the entire app with a password. 2Do offers a free lite version, while the regular version costs $6.
While iPhone task managers that sync with iCal have yet to spread like flashlights or Sudoku clones, this handful of apps should be diverse enough for most aspiring productivity enthusiasts. A couple of them keep the feature set short, focused, and sweet, while the others target power users whose happiness rises in direct correlation to the number of preferences and sliders they can flip. If you've wanted to use iCal to get things done, you at least have some options for taking your tasks with you, no matter where you may roam.
Updated 1/14/10: Added clarification on pricing of iTaskPro companion apps.