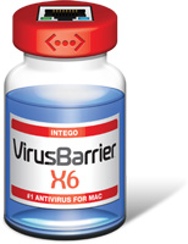 For some, it's a little disorienting to make the switch to Mac from PCs. Chief among them, the fact that, yes, that screensaver isn't going to infect your Mac with something nasty, and neither is that wallpaper. That antivirus program you installed for the Mac? It's not a virus, it's a legitimate program just doing its job. That's because the risk for malware on the Mac is many orders of magnitude less significant than it is for Windows.
However, the Mac platform is not a virus-free world, especially not when it comes to dodgy codecs or pirated software. If you're running Boot Camp or you're on a network filled with Windows PCs, it pays to be careful. Snow Leopard has an enhanced version of File Quarantine intended to protect against some malware threats, but for everything else, there's traditional antivirus software like Intego's VirusBarrier.
VirusBarrier X6 offers many changes from VirusBarrier X5, among them new pricing options. One license for VirusBarrier X6 now covers up to two Macs, preferably a desktop and a laptop computer. X6 costs only $50, $20 less than X5. For users with multiple Macs, there's now a five-license family pack available for just $70.
X6 also offers a brand new two-way firewall, phishing protection, and it scans for new kinds of malware threats with Dynamic Code Monitoring. There's also a new spyware protection feature that allows you to block Mac applications from phoning home along with a series of gauges to observe network activity, not unlike Little Snitch. For extra fit and finish, VirusBarrier is now fully 64-bit and comes with a brand new, Leopard-friendly interface that looks a little more like a standard Mac app and not so much like something that popped out of a UFO one day.
VirusBarrier X6 requires Mac OS X 10.5 or 10.6 and runs on any Leopard-supported Mac with a PowerPC or Intel processor.