Editor's Note: The following article is reprinted from the Today @ PC World blog at PCWorld.com.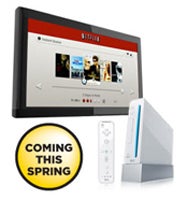 Nintendo Wii users will be able to stream Netflix movies and TV episodes on their consoles, Netflix announced on Wednesday. The feature will be enabled this spring, at no additional charge for Netflix subscribers.
Wii owners will need a free instant-streaming disc from Netflix, which can now be pre-ordered online. After inserting the disc, Wii users will be able to watch movies from the Netflix library, organized in categories. The Wii remote will be used to navigate through the menus, rate movies and fast-forward/rewind through the videos.
If you don't have a Netflix account, the minimum subscription you will have to pay to enjoy streaming on your Wii is $9 per month. The Wii does not support HD resolutions, so only the standard definition range of programs will be available.
Last week Netflix agreed with Warner Bros. to offer the studio's movies to its users only 28 days after they go on sale, both for rented DVDs and streaming.
Netflix already streams movies to the Sony PlayStation 3 and Microsoft Xbox 360. But watching Netflix movies on your Wii will prove to be cheaper than on the Microsoft Xbox 360, which requires an Xbox Live Gold account ($50 per year) in order to benefit from this feature.
Over 26 million Wii consoles have been sold in the U.S. in December and 86 percent of these consoles are located in the living room, according to Nintendo. Netflix has more than 11 million subscribers in the U.S.