impaXor is an Asteroids-esque game for the iPhone and iPod touch, in which you must protect the Earth, located at the bottom of the screen, from being assaulted by incoming asteroids, space junk, and bellicose flying saucers.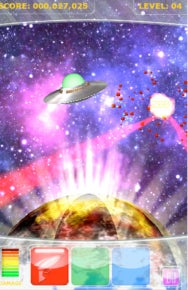 The name impaXor itself makes little sense—no one really wants giant asteroids to impact the Earth. Instead the name seems appropriate for an evil, car-eating robot. Prospective gamers might find impaXor on the App Store more easily with a name like " rayBlast"—which just happens to be the name of impaXor's developer. Keep it simple.
After a slow (almost unacceptably so) load screen, impaXor offers an options menu before entering the game screen. The written tutorial is pretty clear but could use a picture or two so that newbies might know what to expect.
The gameplay itself is pretty straightforward. There are three colored buttons: red, blue and green, and all the asteroids and flying saucers correspond to one of the colors. You have to first touch the correct button and then touch the corresponding earth-threatening objects to blow them up. If you fail, the asteroids crash into the earth and the flying saucers shoot horrible alien bullets at our planet. Toilets (referred to as space trash by the tutorials) pose an additional threat, approaching the planet in a similar way that the asteroids do, but their color (again, red, blue or green) is a little harder to determine on first glance. If any of these enemies manage to strike the surface of the planet, the whole earth shakes and you can see fissures start to permeate the earth's crust. It's very stressful.
As the game goes on, the frequency and density of space trash, asteroids and saucers increases. The game begins very easily but quickly increases in difficulty. With several objects and saucers of different colors converging on earth while you frantically try to shoot them down before the besieged earth starts glowing and breaking below you—well, it can get pretty hectic.
impaXor connects to the AGON Online gaming social network from the menu screen which allows you to compare your high scores with people in your area or your friends. I doubt that this network will become the new Foursquare, and I couldn't find any impaXor players in my immediate area, but it's a nice thought.
RayBlast's freshman effort doesn't really have an addictive element and the game gets pretty repetitive after a while. In combination with the game's slow loading sequence, these flaws will probably relegate impaXor to my iPhone's last page. If my 6-year-old cousin wants to play with my phone or if I'm sitting in a dentist's office with no other games available, I might pick this up again.
[Bryan Schell is a contributing writer to Macworld.]