Quickpedia is a simple, free app for browsing Wikipedia. What makes Quickpedia worth the download over simply navigating to Wikipedia from Safari is the easy-to-read interface and the search history. The app remembers all of your searches, lists them on the home screen, and—this is key—saves every article you've read to your iPhone or iPod touch for future reference offline. (The app does not save images, however.)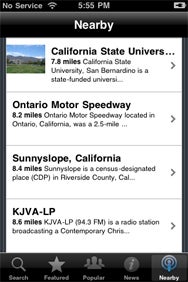 If that were the end of it, Quickpedia wouldn't be much worth noting. But the app from Next Mobile Web has a few novel features. You can browse random Wiki entries and popular user searches, for example. Perhaps not surprising, the two most popular searches of all-time (as of this writing, anyhow) are "Obama" and "Barack Obama." But scroll down a bit, and you will find that "Slumdog Millionaire," "Family Guy," and "India" are also popular articles.
The app has an inscrutable news feature that takes five or six of the day's headlines and links to multiple Wiki entries. (For example, one recent top headline about a Swiss referendum linked to Wikipedia's articles on referendums and minarets.) Almost all of the news seems to focus on foreign affairs, however.
Quickpedia's more interesting—if flawed—feature is the "nearby" tab, which uses your iPhone or iPod touch's geolocation features to search for information on local cities and landmarks. This particular function isn't nearly as accurate for me as other applications I've used that exploit the iPhone's location capabilities, but, then again, I don't use Quickpedia to get directions. You probably won't, either.
[Ben Boychuk is a columnist and freelance writer in Rialto, Calif. Feel free to e-mail him.]