Think of Ping, a $1 app from Gary Fung as something akin to a Blackberry Messenger for the iPhone. With this app, you can send messages to other iPhones or iPod touches while avoiding text messaging fees.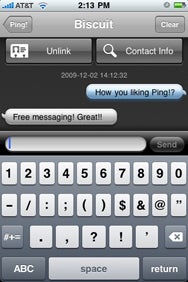 While some other apps like TextFree Unlimited can send text messages to nearly any mobile phone number, Ping can only send messages to other iPhone or iPod touch owners who have that app installed on their device. Instead of sending a message to a phone number, you just type in the intended recipient's Ping ID. One added benefit of using an ID is that your phone number is kept private. Once you have set up your unique Ping ID, you can send and receive as many messages as you like for free.
Ping also supports push notification, so whenever you receive a new message you'll get an alert. Essentially, using Ping feels a lot like using SMS.
Ping's interface is very clean and user friendly. All your conversations are threaded together in colored chat bubbles, just like in the iPhone's built-in Messages app. Ping's main screen gives you a list of all the conversations you have going with each person's picture and a preview of their last message. Tapping on one of these opens up the conversation so you can scroll through and type out a reply. Ping also works in landscape mode for easier typing.
I noticed in the Advanced Features section under Settings that you can purchase a $1 upgrade that allows you to send, receive, and save photos using Ping. Also you can invite friends to Ping by using an in-app e-mail feature.
Another nice touch in the app is a Web button that takes you to a page listing the latest updates and a few troubleshooting tips. Tapping a troubleshooting tip will open up suggestions and links to fixes that open in the apps built-in browser. One common problem, for example, involves the app not working on jailbroken devices; with the Ping's help, you fix this in just a few steps.
Ping! is a great alternative to paying for text messaging. The only problem is that it only works with friends who also use Ping. As handy as the app may be, it becomes a more compelling purchase the more friends you have using it.
[Tim Mercer is a technology enthusiast, graphic designer, and blogger, whose blog, digital-artist-toolbox.com, offers free resources to the digital artist and graphic designer.]