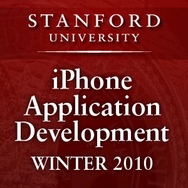 Last year, Stanford ran a course on iPhone Application Development with a twist. The class lectures were made available on iTunes as free downloads and the course materials could be acquired from Stanford's website at no extra cost. This course was initially portrayed as an experiment, with no promises made on whether or not there would be any followups or for how long the videos and materials would be available.
Fear not, my friends. The Winter 2010 semester of iPhone Application Development has begun. All of the material has been updated for iPhone OS 3.1 and the corresponding SDK, and every video now comes with subtitles to help viewers follow along. Just like the Spring 2009 semester, the lectures are available on iTunes for no charge and the course materials are on Stanford's website.
If you're not familiar with this course, it's aimed at an audience that already knows how to program in compiled languages such as C, C++, or Java. The lectures themselves are taught by Apple employees on Stanford's campus, and they're every bit as good as the beginner level sessions found at WWDC or the iPhone Tech Talks.
Those viewing the course videos who aren't enrolled in the class won't have access to the classroom, staff, grades, or course credit. TAs enjoy a little free time, you know. As long as you're fine with the hands-off approach at home and don't mind doing a little searching through developer resources on your own time, you'll do fine.
I know several up and coming iPhone developers that have had nothing but good things to say about this course. If you're interested in more free resources for iPhone programming, I also suggest Apple's very own developer documentation, available from the iPhone Dev Center and Xcode's Help menu.
[via The Loop]