Editor's Note: The following article is reprinted from the Today @ PC World blog at PCWorld.com.
Google responded to the devastating earthquake that hit Haiti earlier this week by working with satellite imagery company GeoEye to quickly make images of the destruction available in Google Earth and Google Maps. The images were taken at approximately 10:27 AM Eastern time on Wednesday, and could prove to be a helpful tool for aid organizations attempting to survey and assess the damage to Haiti's infrastructure.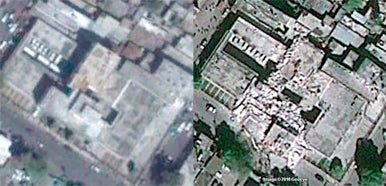 To view the images you can either download the KML file to add an image layer to Google Earth or you can use the Google Earth browser plug-in to view the images on Google Maps. Google says it will automatically update the Haiti layer as more data and images become available, but Google Earth users only need to download the KML file once.
Google has been working to develop a better map of Haiti through its crowd sourced Map Maker application ever since the country was hit by hurricanes Gustav and Ike last fall. Map Maker encourages users to enhance Google Maps by adding street names, points of interests, and editing driving directions for Google's satellite image-based maps. In a blog post on Wednesday, Google said it had made all of its raw Map Maker data about Haiti available to the United Nations to aid in relief efforts.
The best way to understand the devastation is to compare before and after images by switching the Haitian layer on and off.
The complete scope of the devastation to hit the tiny nation, which shares the island of Hispaniola with the Dominican Republic, is still unknown, but many fear the death toll will reach at least 100,000.
If you are planning to make a donation to Haitian relief efforts, be advised the FBI is warning users to watch out for bogus charities, and security firm Symantec has noted that e-mail scams pleading for assistance have begun to surface.