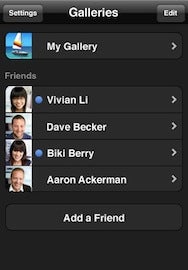 Although you can already access MobileMe galleries from an iPhone simply by visiting their URLs, Apple's new MobileMe Gallery seeks to make them faster and easier to access. The application is free and comes with a very respectable set of features.
Not only can you visit your entire gallery (including password-protected and hidden albums) but you can also view photos and movies published by your friends, access previously-viewed photos even when you don't have an Internet connection, and e-mail a link to any album from within the app itself.
One of MobileMe users' oft-mentioned complaints is that many of the service's Web apps can't be used on the iPhone and those that do have iPhone app equivalents don't always provide the full functionality. MobileMe Gallery, for what it's worth, seems to be a genuine improvement over accessing the gallery via Safari: it's easy to find friends' galleries, pictures load snappily, and there's even a neat scrolling marquee of pictures.
The app supports German, French, and Japanese languages as well as English, and is compatible with any iPhone or iPod touch running iPhone OS 3.1 or later. The app does, however, require an active MobileMe subscription, even if you just want to view other people's public albums.