I love all things Japanese, so I'm a sucker for Japanese-themed apps such as Yoritsuki from Hybridworks. In case you're curious about the name, Yoritsuki is a fictional Japanese inn of extraordinary beauty and peacefulness. This $2 app aims to provide the virtual experience of staying at the inn. And that's about all that it does.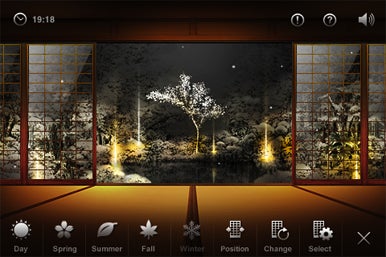 When you launch Yoritsuki, the app displays a scene at the inn that's determined by the date and time on your iPhone or iPod touch. For example, if you launch the app at 9:00 a.m. in mid-summer, then it will display a daytime summer scene at the inn. But launch it at 9:00 p.m. in mid-winter, then you'll get nighttime winter scenery. It appears as though you're sitting in a sparse Japanese room with sliding latticed panels (shoji), looking out over a peaceful garden and pond, with the sound of birds, crickets and running water the background. Depending on the season and time of day, birds and fireflies occasionally fly by and leaves or snowflakes fall to the ground.
There aren't a lot of options to configure in the app. Although Yoritsuki automatically selects the appropriate season and time of day, you can change either of these if you prefer. You can also change the style of shoji and their positions, as well as the volume of the ambient sounds (but not the sounds themselves, unfortunately). The app displays a small clock and also provides a "clock mode" where all that is visible is the scenery and an alarm-style date/time below it. For some odd reason, the clock is stuck in 24-hour mode and it doesn't function as an alarm.
Admittedly, for $2, the app doesn't do much. (Then again, neither did the well-regard Koi Pond.) As a result, Yoritsuki has received some fairly harsh user reviews in the App Store. Personally, I don't believe an app needs to provide complete control over every minor setting, but I do wish Yoritsuki would provide a few more basic features.
As it is now, Yoritsuki adds some nice ambience to my office, but with a few small additions, it could be a nice bedtime application too. Specifically, if I could (a) configure the scene to fade out after, say, an hour, while (b) having the ambient sounds continue (along with having the ability to change the variety of sounds) with (c) the option of setting an alarm, then I think Yoritsuki would be almost perfect… like a Japanese garden.
[Brian Beam is a day dreamer, web developer and partner with BOLD Internet Solutions, living somewhere near Kansas City.]