Music vendors of all types as well as musicians and performers converged on the Anaheim Convention Center for the International Music Products Association's four-day winter meet-up. Here's a brief wrap of what's been going on so far.
IK Multimedia Announces AmpliTube 3
IK Multimedia has announced AmpliTube 3, an upgrade of its guitar and bass tone gear-modeling software targeted to players, producers, and engineers. The package features more than 160 precisely modeled pieces of vintage and modern gear.
This version of the software features 100 added models including:
51 Stompbox effects, 31 Amps, 46 Cabinets, 15 Studio Mics, and 17 Rack effects
30 new models
70 re-worked models from packages like AmpliTube Metal and AmpliTube Jimi Hendrix
A new preset management and keyword system allows you to organize and recall the large library of included and custom preset tones.
AmpliTube 3's new cabinet module provides double miking per cabinet, with freely movable microphones. IK says its Volumetric Response Modeling technology offers a high level of control and sound accuracy. In addition, new impulse-based reverbs are now used in the entire chain, from spring reverb to room ambience, which ensures realistic representation of your recording environment. The new rotary speaker module offers accurate emulation of these types of cabinets.
All models in AmpliTube 3 have been "remastered" with the company's new third-generation modeling technology (found in AmpliTube Fender), ensuring that the sound from the software is the same sound you hear from the gear.
This new version of AmpliTube features new creative effects featuring the new StepFilter, StepSLicer, TapDelay, Rezo and Swell stomp and rack effects that let you sculpt your sound to create rhythmic patterns or drone and pad-like effects.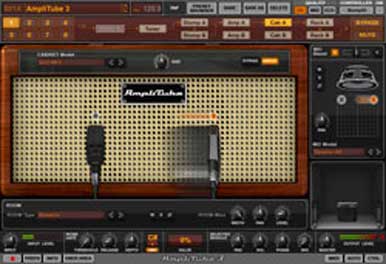 AmpliTube 3 ships in February 2010 in VST, RTAS and Audio Unit plug-in formats and as stand-alone software for Mac OS X for $350. Upgrades are $200 (available to all previous AmpliTube 2, AmpliTube Metal, AmpliTube Jimi Hendrix, AmpliTube Fender, or Ampeg SVX registered users). An AmpliTube 3 Crossgrade, available to all IK registered users, is $270. AmpliTube 3 will also be available as a software and hardware package for playing and recording with the StealthPedal–IK's wah-style interface and controller for guitar and bass players for $400. Preorders are available in the IK online store, and via the company's dealer and distributor network.
In other news, IK Multimedia has introduced StealthBoard, a USB-MIDI floor controller for guitar and bass players that offers full control over your entire rig. Users can now control software and/or hardware-based tone and effects units, plus channel switching, all from just one unit on the floor. It will be available in the second quarter for $400.
Ableton and Serato introduce The Bridge
The Bridge, a layer of software that spans the gap between music production and DJing, is designed to create a natural link between Ableton Live and Serato Scratch Live/ITCH. The Bridge provides a fusion of DJ and production tools that the companies believe will open a host of opportunities for DJing, remixing, and live performance.
The Bridge works in both directions: It provides Ableton Transport Control (ATC), giving DJs turntable-style control of their own multitrack productions. DJs can simply drag an Ableton Live Set onto one of the decks in Scratch Live or ITCH and use their turntables, CDJ, or ITCH controller to control the transport. From the Serato side, it provides a complete mixtape creation tool. DJs can perform mixes in Serato Scratch Live or ITCH and save them as an Ableton Live Set. This way, the DJ can still perform the mix and also have detailed editing options.
The Bridge will be free to registered owners of both Serato Scratch Live/ITCH hardware and Ableton Live 8 or Suite 8, but there is no release date set.
Sonic Reality releases a slew of new products
Neil Peart Drums Vol. 1: The Kit This sample library for BFD2 and Infinite Player, and powered by Kontakt, is part of Sonic Reality's Drum Masters series. Neil Peart, drummer of the band Rush, collaborated with Sonic Reality and producer/engineer Nick Raskulinecz to digitize the sound of Snakes and Arrows' Custom DW Drum Kit. It features deep level dynamics, humanized random alternating hits, discrete multiple mic mixing, and more. It gives e-drummers, keyboardists, and composers the ability to play rock drum samples with the distinctive Neil Peart sound, and have a drum kit suitable for many styles of music from Progressive Rock to Heavy Metal. It comes mapped in GM, iMap, V-Drum and a Custom Map mode to be controlled by any electronic drum kit. It also includes discrete mic mixing and album-quality presets. It ships in the first quarter, but the price has not been announced.
Drum Masters 2-Multi-Track This followup to the Drum Masters 1 series is a drum plug-in that provides discrete mic mixing for both drum kits and live-played audio Rex grooves mapped across the keyboard. This combination of kits and grooves played by famous drummers offers realistic emulations of studio drum sessions. In version 2, grooves can be selected from a scrolling keyboard menu and mapped alongside the kits in a "performance mode" that allows both to play on the same midi channel and be routed through the same 16 individual outs for seamless transition between midi-played kits and live-played audio grooves. The Drum Masters 2 Multi-track drum kits are now mapped in GM, iMap, Performance, V-Drum, and a Custom map mode with midi learn. The package is compatible with any midi controller–keyboard, pads, or e-drums. It ships during the first quarter with a street price of $249.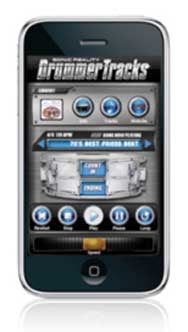 Drummer Tracks for Jamming Designed for guitarists, bassists, keyboardists, songwriters, and other musicians who just want to play along with professional drum tracks for songwriting inspiration, practice, play-along performance, and fun, Drummer Tracks offers drum sounds without any technical learning curve. The titles ship in the first quarter for $20 to $30 each. And, of course, there's an iPhone app to go with that. Drummer Tracks for iPhone includes 10 selections from the Drummer Tracks range for $1.99. This mobile version offers speed control, count in and instant endings for grooves on-the-go.
Serafine FX Tron HD This sound effects workstation, made as virtual instrument software, comes with Sonic Reality's Infinite Player, powered by Kontakt, and works as a standalone program for the Mac and PC as well as a plug-in for major digital audio workstations. It features more than 12,000 sound effects covering ambient soundscapes, animals, electronics, industrial, musical, nature, science fiction, vehicles, weapons, explosions and more. It ships in the first quarter and costs $995.
Also available in the first quarter of 2010 is the Serafine FX Tron Platinum HD with more than 20,000 interactive playable sound effects, including the main FX Tron workstation, plus additional expansion libraries: Comic Sonic Relief, Drone, Foley, Guns of Cinema, Human Animal, Industrial, Sci-Fi 1 & 2, Vehicles and Water. The price has not been announced.
FX Tron HD and Platinum HD come pre-installed on a 7200 RPM USB2/Firewire 400/800 portable hard drive for instant use.
Globalstor Previews Latest iTRAX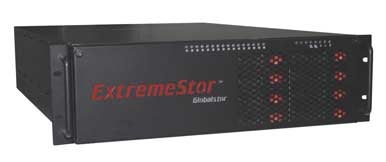 Globalstor Data Corporation is previewing the latest version of its iTrax portable audio file storage device. Offering sound professionals multi-user access to consolidated, centralized, and fully searchable data, the new version of iTrax operates over a standard LAN or WAN network and comes in a portable lunchbox-style casing. Equipped with a solid-state 64-bit iSCSI and NAS operating system, it uses an iSCSI initiator to appear as a local disc drive on any connected computer. Once the user plugs it into a networked device and the iSCSI initiators are loaded, every host system on the network can see and share all stored data. Engineers on separate workstations can simultaneously edit and mix different sessions stored on any iTrax server.
PreSonus announces 24-channel StudioLive Digital Mixer
Following up on its StudioLive 16.4.2 digital mixer, PreSonus has announced a new member of the family: the StudioLive 24.4.2. Like its 16-channel sibling, the 24-channel StudioLive 24.4.2 is designed for both studio recording and live sound. StudioLive 24.4.2 sports the same user interface, feature set, and I/O configuration as the StudioLive 16.4.2 but with several significant additions and enhancements. The new mixer provides 24 input channels, rather than 16. Like the 16.4.2, the StudioLive 24.4.2 offers four subgroup outputs, but where the 16-channel model offers 6 aux buses, the 24.4.2 provides 10 aux buses. Both StudioLive models serve as dual-port FireWire audio interfaces that can route all channels and buses to and from a Mac or PC. But where the 16.4.2 is a 22-by-18 FireWire interface, the 24.4.2 can send 32 channels to the computer and can return 26 channels via FireWire. The hardware ships with the company's Capture recording software and Studio One Artist digital audio workstation software. The expected street price is $2,999.
In other news, PreSonus announced version 1.1 of its Studio One digital audio workstation software and version 1.1 of its Capture recording software. Both updates add many features and enhancements.
In Studio One, you can now draw automation waveforms, and automation points can be locked to selected events, so automation moves with the related events. A transform function lets you scale, stretch, and modify automation envelopes. An Undo history enables viewing and undoing all edits done since the file was opened, even if you have already saved. A pitch-name editor is available in the drum layout, and you can save and load names from a pitch-name list. The update will be available in the first quarter and free to all registered users.
Capture 1.1 lets you stereo link channels so you can record interleaved stereo files from linked channels on the StudioLive mixer. Vertical scrolling is now available, and you can resize tracks, just as you can in PreSonus' Studio One software. One of the benefits of the StudioLive 16.4.2 mixer is the ability to daisy-chain two mixers and record their channel outputs via FireWire. Capture 1.1 supports this feature by automatically detecting the number of available inputs, so that when two StudioLive 16.4.2 mixers are daisy-chained, you can record all 32 input channels plus two assignable channels. This is a free upgrade for all registered StudioLive 16.4.2 owners and is available on the company's Website.