At a Glance
Expert's Rating
Our Verdict
Many years ago, I owned a Lind battery pack for my Apple laptop. Though bulky and heavy, it provided a couple hours of additional use at a time when the best laptops could run for only two hours or so on their own.
Today's Apple laptops provide outstanding battery life in comparison—anywhere from four to eight hours on a single charge. But if you need even longer run times, the fact that the batteries in the current MacBook, MacBook Pro, and MacBook Air models aren't swappable may have you looking back to those days of external power packs.
The problem—as I lamented nearly three years ago and which still hasn't changed—is that Apple refuses to license the MagSafe power connector, that little magnetic tip that lets your MacBook's power cable safely detach, instead of damaging the laptop, when you trip over the cable. Without a MagSafe connector, external battery packs can't work with recent Apple laptops.
The only solution is for third-party vendors to use Apple's power cables…and that's exactly what Sanho has done with the company's HyperMac External MacBook Battery line. To produce each HyperMac battery, Sanho actually purchases a $79 Apple laptop power adapter and surgically extracts the MagSafe cable for use with the battery.
Power bricks
As we noted when the HyperMac batteries debuted, Sanho offers four different models:
MBP-060 ($200): 60 Watt-hours; 4.9 by 3.8 by 0.83 inches; 12.8 ounces
MBP-100 ($300): 100 Watt-hours; 7.5 by 4.9 by 0.8 inches; 1.6 pounds
MBP-150 ($400): 150 Watt-hours; 8.9 by 4.9 by 0.83 inches; 2.4 pounds
MBP-222 ($500): 222 Watt-hours; 10.1 by 5.91 by 1.3 inches; 4.7 pounds
(Sanho notes that the MBP-060 is designed for use with only the MacBook Air, MacBooks, and the 13-inch Unibody MacBook Pro.)
Each model sports an attractive, aluminum enclosure with white-plastic trim, making the HyperMac batteries a nice aesthetic match for Apple's Unibody laptop line. I was also impressed by the build quality of the models we received.
Inside each enclosure is a lithium-ion battery offering 60 to 222 Watt-hours of power, depending on the model. At one end of the enclosure is a panel with a charging jack (for charging the battery), a power button (for toggling the battery on and off), an LED power indicator, a four-LED display that indicates the remaining charge (at quarter-charge increments), a USB jack, and a DC-Out jack.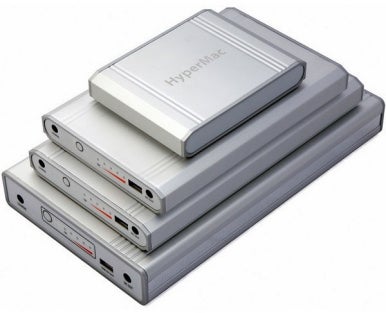 You charge the battery using the included 6.5-ounce AC adapter; charging takes 2.5 to 6 hours, depending on the model. The company says its batteries can retain a full charge for 180 days; I couldn't test this claim in the time frame of my testing.
To use the battery with your laptop, you connect one end of the included MagSafe cable to the HyperMac battery's DC Out jack, and the other end to your MacBook; as long as there's a charge left in the HyperMac battery, your computer thinks it's connected to AC power. (When ordering, you choose whether you want a cable with the low-profile MagSafe connector that ships with the MacBook Air and recent MacBooks, or with the standard MagSafe connector.)
Three features make the HyperMac batteries especially appealing. First, each battery can actually charge your laptop's internal battery—not just provide operating power—during use. Second, the batteries support Apple's dual-voltage power system, automatically switching as needed. (MacBook and MacBook Pro models normally use 14.5V of power, but draw 18.5V during demanding tasks.) Third, each battery also provides a 5V/1A USB-power port for charging or powering your iPhone, iPod, or other USB-powered devices at the same time as your laptop.
As a bonus, all but the MBP-060 model include, at no extra charge, the company's $150 Pure DC Car Charger for Apple MacBook. This 3.5-ounce car charger plugs into a car's accessory ("cigarette-lighter") jack, using the same MagSafe cable as the HyperMac battery to provide power to your laptop—in other words, the charger works independent of the HyperMac battery. Sanho claims the Car Charger is safer and more efficient than using a power inverter and provides a more-stable power source. Like the HyperMac batteries, it also supports dual voltage modes.
Given that you can charge your MacBook while the HyperMac battery itself is charging, Sanho's combination of an AC adapter, a DC charger, and a battery in a single package means you've got power solutions at home, in the car, or when away from any outlets.
On the other hand, one feature I'd like to see is the capability to charge the HyperMac batteries via USB, which would let you charge them from a plugged-in laptop or—even better—a tiny USB power adapter. And an EmPower cable or socket adapter for in-flight power and some sort of international power adapter or plug set would be useful for globe-trotting travelers.
How much power is enough?
I received for testing the MBP-060, MBP-100, and MBP-150; I didn't receive the MBP-222. I tested the batteries with a Late 2009 (Unibody) MacBook running Mac OS X 10.6.2 Snow Leopard.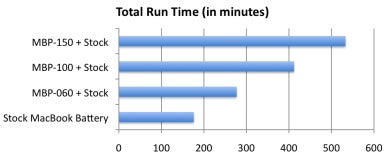 My testing procedure included running a Unix script that repeatedly copied and erased a 781MB file, thus keeping the computer's hard drive continuously in use. At the same time, I looped, at QuickTime Player's full-screen size, a 320MB MP4 video. For each test, I fully charged the MacBook and the battery being tested, initiated the test tasks, and then disconnected the laptop and battery from AC power; in other words, the result of each test indicates the total run time of the MacBook's own battery plus the connected battery. Testing was conducted with WiFi enabled and the MacBook's screen brightness at approximately two-thirds of full.
While this testing procedure isn't necessarily representative of typical laptop use, it was useful for creating controlled, consistent activity that allowed me to compare times across test runs. The graph above and table below show the run times I obtained for those trials:
MacBook Run Time
| Configuration | Run Time | Increase | % Increase (vs. stock) |
| --- | --- | --- | --- |
| MacBook stock | 2:56 | NA | NA |
| MBP-060 + stock | 4:37 | 1:41 | 57% |
| MBP-100 + stock | 6:52 | 3:56 | 134% |
| MBP-150 + stock | 8:53 | 5:57 | 203% |
(Run Time and Time Increase are presented in hours:minutes.)
As you can see, the three HyperMac batteries provided significant additional run time over the stock battery—from 58 percent for the MBP-060 to a whopping 205 percent for the MBP-150.
(If the MBP-222 offers performance roughly proportional to that of the MBP-100 and MBP-150, it should offer somewhere in the vicinity of 6:45 of additional Unibody MacBook run time, for a total run time of approximately 11:41.)
Of course, different MacBook models require different amounts of power—the MacBook Air sips power, while the 17-inch MacBook Pro slurps it up. And results will depend in large part on the tasks you're performing while running off the battery. (Because my test was specifically designed to drain power quickly, most people will get considerably longer run times than those shown here.) But these numbers should give you a decent idea of how the HyperMac batteries compare both to a stock MacBook battery and to each other. And in that respect, the numbers are impressive, especially the performance of the MBP-100 and the MBP-150.
Luxury or necessity?
Sanho's HyperMac offerings are heavy—the largest weighs nearly five pounds—and expensive, at $200 to $500 (in part thanks to Apple's reluctance to license the MagSafe connector). And the HyperMac AC adapter is also chunkier than you'd expect given that these products are designed for the road warrior (though, as I noted above, you can leave your laptop's own AC charger at home, and by letting you charge other gadgets via USB, the HyperMac batteries let you leave behind the AC chargers for those devices, as well).
On the other hand, high-capacity batteries have always been heavy and relatively pricey, and the HyperMac models are sleeker and more attractive than most external power packs I've seen. Given that context, if you often find yourself in need of additional run time but out of reach of power outlets, Sanho's batteries offer impressive performance, good design and build quality, and—most important—a MagSafe connector.
Which to buy? Unless you need 10-plus hours of continuous run time—and are willing to carry around a five-pound battery to get it—I think the MBP-100 and MBP-150 are the most appealing of the four models, offering two to three times the run time of a stock MacBook while weighing just 1.6 and 2.4 pounds, respectively. (I would recommend the MBP-060 mainly for MacBook Air owners.) The MBP-100 will be especially appealing to those who, in the past, would have opted for a second Apple battery for their MacBook Pro: At $300, the MBP-100 is considerably more expensive than Apple's $129 battery, but it offers more juice, can also charge other devices via USB, and includes a dedicated car charger.