At a recent holiday party with a bunch of relatives, our primary natural tendency was to share information with one another for the express purpose of keeping in touch. The next most popular priority? Passing around the last family photos of kids and dogs and grandkids.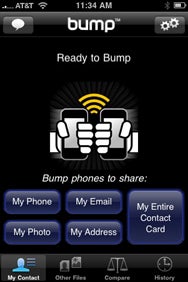 A few years ago, these exchanges would have involved lots of little scraps of paper, old unsharpened pencils and some photo albums. This year, all it took was a room full of iPhones and two words, "Let's Bump!"
Bump, from Bump Technologies, allows you to send contact information or photos to another iPhone or iPod touch, simply by "bumping" them together. And it really is that easy.
After setting up your initial information, all you need to do is bump hands with another person who's running Bump on his or her phone, and accept the transfer. The app will also compare your contact list to a friend's to see any common entries; you can also view your Bump history, in case you're worried about "over-Bump".
The process works about 90 percent of the time, and I found the biggest problem was getting people to find themselves in their contact list. When the exchange works, it feels like one of those "Wow, we are living in the future" kind of moments—in other words, the very reason we got iPhones.
Back to my holiday party: before long, the whole family is saying, "Let's Bump," sharing information and photos around the room. Everyone left that day with refreshed contact information and a batch of new family photos, talking about how much fun it was to bump
"Let me share my contact information", or "Let's Bump"—which sounds better to you? Once again, the iPhone has turned a mundane, everyday task into something fun.
[ Jeff Phillips is an educator, photographer and technology advocate. Find him on his blog or podcast.]