At a Glance
Expert's Rating
Pros
Can share the same files between Macs and PCs
Easy to use
Comprehensive art library
Powerful, intuitive tools
Cons
No scrapbooking page template
Requires 22GB hard disk space
Cannot open documents created with previous versions of the software
Our Verdict
So you've just snapped some great pictures of your new puppy and you want to do something special with them. You could use your favorite photo editing tool—like Photoshop ( ) or iPhoto ( )—to fix the color brightness and crop out the background noise, but then what? When you want to turn a good photo into a great story, PrintMaster Platinum 2.0 helps you put one or many of your favorite photos into an inviting layout that you can share easily with friends and family.
I review the Platimun version of this program, but there are two other less expensive versions that have similar capabilities: PrintMaster Gold (for $20) is essentially a starter kit with just the essential page layout features, while PrintMaster Express ($30), which offers a limited number of templates, is available for download only. While you may be happy for the wide range of assets that ship with the Platinum version, be aware that your hard drive will pay the price to the tune of 22GB.
PrintMaster installs easily and opens with a window that offers you New Project Options. Once you choose whether you want to create a project based on an existing template or start from scratch, the program walks you through the process of creating your page. PrintMaster is a powerful but intuitive program that offers a lot of support along the way. A series of help messages, appearing in red text along the bottom of the work area, tell you what your next step in the process is (for example, "Please enter a name for your project") so you never feel unsure about what to do next as you're beginning to work with your project.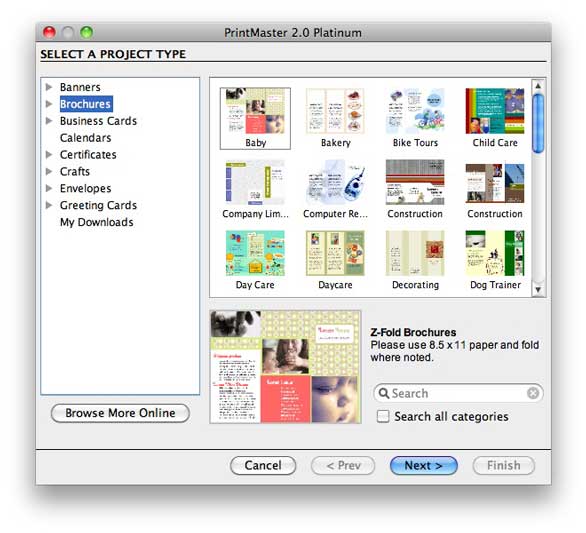 You can create many different types of projects in PrintMaster. Whether you want to design and print banners, business cards, calendars, certificates, crafts, envelopes, and greeting cards, you will find a great range of tools for adding photos, inserting and styling text, and enhancing the project with custom backgrounds, paper styles, shapes and lines, headlines, and clip art. Disappointingly, there was no specific scrapbook template, which would have been a natural for such a package.
After you choose the type of project you want to create, PrintMaster asks whether you want to insert photos manually or let PrintMaster AutoFill the photos for you. If you choose the AutoFill feature, you are led through selecting the folder and the photos you want to include. If you choose the manual option, you can simply click and drag the photos you want from the Resource Gallery along the right side of the PrintMaster canvas.
Printmaster's Design Tools appear along the left side of the window and give you the ability to add and customize your project. As you click each tool, context-sensitive options for that choice appear and other selections in the list close, accordion-style. This saves space on the screen and avoids the need for popup dialog boxes, which helps you stay in creative mode. You can also click the element on the page to display the options in the Design Tools. For example, when you double-click a photo on the page, the Photos area expands, presenting you with all the tools you need for editing, enhancing, rotating, cropping, and resizing the image.
The design and cropping tools are easy to use; photo editing is simple and intuitive. When you double-click a photo, the photo editor pops up over the PrintMaster window so that you can apply photo effects, crop the photo, and click OK to save your changes and return to the page. Working with text was just as intuitive, offering a range of easy-to-select tools that enable you to change everything from text size and color to shadow and shape. At first the text box seemed too responsive (I kept clicking it when I didn't mean to), but with a little practice, adding, editing, and applying formats to text becomes a smoother process.
When you're done adding photos and text, you can click Check Project and preview it in one of four different ways: Page-by-page, as a photo album, as a calendar, or as a greeting card. Again the preview pops up over the rest of the work area, graying out what you don't need, and helping to focus your attention on the task at hand. Nice. You can use the other Check Project tools to run the spelling checker and check for design errors in your project.
When you're happy with what you've created, you can share your project with others. The Share Project tool gives you the choice of printing your project in a variety of quality levels, ranging from Draft mode (50 ppi) to Best (300 ppi). You can also export the project as a series of JPEG images, or upload it to order a high-quality photo album, greeting card, or calendar that will be professionally produced and delivered to you for a fee.
Macworld's buying advice
If you want to do more with your photos than leave them in a folder on your hard drive, occasionally e-mail them to friends, or set them up in an online photo album, you will find that PrintMaster Platinum 2.0 is more than worth its $40 price tag. It comes with everything you need to create, print, and share fun, high-quality, creative projects. Flexibility is the watchword here, and you have lots of choices for producing memorable stories with the images that are meaningful to you.
[Katherine Murray is a technology writer in Indianapolis and the author of Creative Digital Scrapbooking (Peachpit Press).]