At a Glance
Expert's Rating
Pros
Powerful export options
In-depth search-and-replace feature
Excellent overall interface
Cons
Minor interface hiccups
More expensive than some similar programs
Our Verdict
Like the James Joyce novel for which it's named, The Soulmen's Ulysses 2.0.4 is dense and complex. But this top-notch writing program is rarely as intimidating as Joyce's prose, thanks to its superb design.
A clean, one-window interface keeps all the information about your writing project at your fingertips. The left side of the window is dominated by a list of the documents within your current project. You can organize these documents with Collections, sorted by the user; Filters, which automatically gather documents based on user-specified criteria; and Groups, folders that can gather together Collections, Filters, and even other Groups. Clicking once on a document in the list brings up a full preview of that document's text and its associated notes; clicking twice opens that document in the center pane of the Ulysses window.
Ulysses approaches prose writing the way many text editors treat HTML and other programming languages. There are no options to format text (though you can customize Ulysses' default font and type size in its Preferences window, a new feature for version 2). Instead, you add simple, HTML-like tags as you type to indicate bold or italicized text, footnotes, or other formatting. In an especially welcome touch, you can easily switch between multiple open documents via tabs at the top of the screen. A well-implemented full-screen Console Mode displays the text of the current document on a black screen, with no distractions, much like Hog Bay Software's WriteRoom ( ).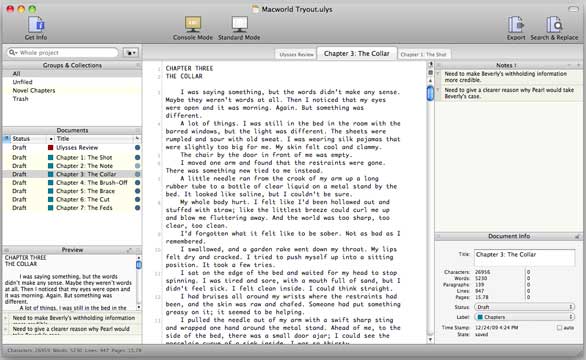 The right side of the screen contains information about the current document. Where other programs simply provide one text field for each document's notes, Ulysses's Notes pane handily lets you create multiple notes for each document. Individual notes can contain images or footnotes, and simple text tags let you link to those notes from within your text. A Document Info pane below the Notes presents word and character counts at a glance, and easily allows you to retitle the document. You can also set the document's status and label using Ulysses' preset categories, or create your own.
Ulysses' powerful search-and-replace feature, souped up for version 2, goes a step beyond that of most rival programs. When you enter a word, Ulysses shows you all incidences of that word in your text, then lets you decide which you want to replace. For example, you can replace "man" with "woman" without turning "many" into "womany." To get to the search feature, however, you'll have to dig through Ulysses' menus or reveal the program's initially hidden toolbar. There's another search field in plain sight at the top left side of the window, but it only applies to the titles of items in the Documents pane—a rare interface stumble in an otherwise well-crafted program.
When you're ready to show your work to the world, Ulysses' powerful Export feature lets you save your writing as plain or rich text, a PDF or Microsoft Word file, or as a LaTeX typesetting file, applying the formatting you specify to the semantic tags within the text. A test export yielded a great-looking PDF file in a matter of seconds.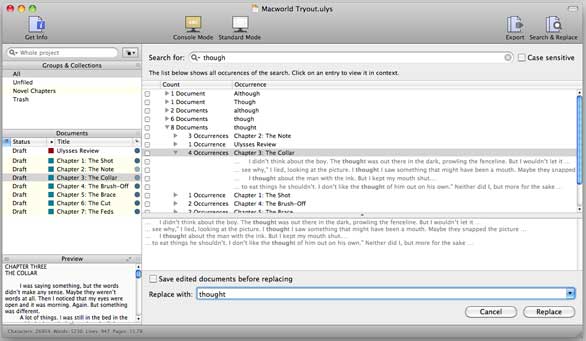 Ulysses' polished interface can nonetheless be slightly daunting sometimes, and not all of the program's power is available at first glance. Thankfully, the included help files are thorough and excellent, and the Ulysses web site offers witty screencasts to guide you through all the program's features.
Macworld's buying advice
At approximately $64 at the time of this writing, Ulysses 2.0.4 occupies the pricier end of the spectrum for Mac writing programs. But its excellent design, speedy and bug-free operation, and robust features are well worth the cost.
[Nathan Alderman is a writer, copy editor, and would-be author of hard-boiled detective novels in Alexandria, Va.]