Surviving High School, a $3 app from EA Games, draws inspiration from perhaps the greatest literary works of our time: The Choose-Your-Own-Adventure series. In the game, you star as a high schooler of your own creation, and you determine your social status and overall life successes based on the decisions you make.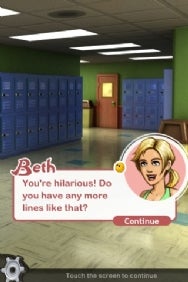 Let's be clear: This is a game geared toward the tween and teenage crowd. You're faced with challenges like finding the right pickup lines, debating whether to cut class to get popular at the expense of your academics, and playing wingman so your buddies can score. But regardless of Surviving High School's seemingly intended demographic, I'm here to tell you—this is one fun, addictive game.
Each week, EA releases a new "episode"—the storyline that the game will focus on. Those updates are free, but if you want to go back and play episodes you've missed "on demand," you'll have to pony up $1 for each one within the app. I played through several episodes.
Each story is told through copious amounts of dialogue; you'll tap incessantly to get through it before you hit various interaction points. Fortunately, the stories are well-written albeit a little cheesy with their mix of high school drama and angst. Surviving High School works best when it skews comedic: Your decision to take biology reminds the creepy guidance counselor that her biological clock is ticking, and she bemoans her ex's restraining order. Plotting to steal back some stolen property, a student says: "'Fight fire with fire and theft with theft,' my old man always said. Before he got locked up." Overly dramatic moments skew towards the maudlin, with your love interest admitting her fear of water, or the bullying quarterback confiding about his brother's death in a drunk driving accident.
The gameplay itself is clever, but simple. You're mostly presented with (well-drawn) static screens, where any animation is limited to the dialogue bubbles that appear. At decision points—do you want to propose a date at the mall, a dinner, or a movie?—you'll simply tap your choice. Other times, you'll be thrust into small mini-games to determine just what happens. Some of these mini-games are fun initially, but none are especially engaging, and they all get tedious when they come up repeatedly. You'll need to trace words in a letter grid, or tap the right words quickly out of a list. More clever mini-games, like the reflex-testing football mode, are a bit more clever.
When it comes to making decisions, they do directly impact the game. In a football-themed episode, for example, you can choose whether to do homework, watch TV, or workout during your free time. Watching TV helps you get more popular (since you'll be able to talk about pop culture), but doing extra homework can raise your GPA. And since Dad promised you a sports car if you end the semester with a 3.5… It's a tough call. You'll also get to choose among various potential love interests, and who you choose to woo can have major impact on the storyline's evolution.
Part of Surviving High School's genius, of course, is its innate replayability. If you successfully win the popular girl and the state football championship on one play-through, you can play again and skew nerdier and try to win the goth chick instead. I played the game way longer than necessary to write this very review, because as silly as the high school stakes are, I wanted to know how my story would turn out. This game doesn't sport the traditional EA $10 price tag, and it's impressively detailed given its low cost. The free trial version features a complete storyline, and I predict you'll get hooked.
[ Lex Friedman is way more popular in virtual high school than he was in the real thing.]