Finger Physics by PressOK Entertainment is a beautifully crafted puzzle game that will satisfy everyone from the casual gamer to someone seeking a real challenge.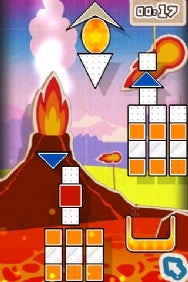 Finger Physics includes an impressive set of 108 levels spread across 12 stages which you must unlock sequentially. ( Finger Physics Free limits you to 36 levels and four stages.) There are seven different types of levels with each having a unique objective you must accomplish subject to the changing physics of the environment. For example, in the Egg mode, you strategically remove glass blocks with a tap of your finger so that an egg gets safely dropped into a basket. In Lawn mode, you must build a stable construction of different shaped blocks and hold it for five seconds. In other modes, you're faced not only with gravity but also with exploding blocks or magnetic forces. There is even an Underwater mode—some blocks sink while others float. Whether you earn a gold, silver, or bronze medal depends upon how high you build a structure or how fast you complete the objective.
The first thing you notice about Finger Physics is the exquisite design. The blocks themselves are fairly simple, but the levels are a visual treat with beautiful backdrops and cute animations. Combined with the enchanting music, you have a level of fit and finish that is among the best you'll find in iPhone games. The higher the level, the more difficult the challenge becomes. The level of detail and thought that went into each of the levels is amazing.
While you can meet the minimums to complete the levels and advance to higher stages, only earning the gold will qualify you as a true Finger Physics champ. If you do manage to conquer them all, PressOK Entertainment promises regular releases of additional levels. You can also show off your Finger Physics prowess as OpenFeint allows you to rack up achievements and share them with your friends.
Bottom Line: Finger Physics is world-class game at a bargain price.
[James Savage is the host of the RetroMacCast a weekly podcast devoted to older Macintosh computers.]