If you're one of those people who spends hours curating your music, books and movie lists (I certainly was), the LivingSocial app for the iPhone and iPod touch might be appealing. Facebook users will instantly recognize this free app, which lets you catalogue and share your impeccable tastes with friends and like-minded cool people near you.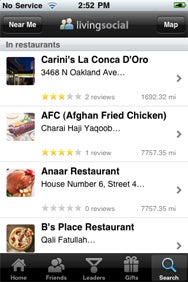 Alas, the iPhone app is a bit like the odd cousin Oliver of the LivingSocial family. Disappointments abound. The app is awkward to navigate and not as thorough with features as you would expect. Problems are apparent from the outset. If you don't have a LivingSocial account outside of Facebook, then entering the app will be a bit tricky at first. You can sync with your Facebook account if you go through a few steps that aren't obvious.
Once in, you browse and search out new beers and restaurants to try, movies and TV shows to see, books to read and albums to hear. The app lets you buy directly from Amazon.com. But Top 5 lists, a user favorite, are absent here. And several categories, including movies and video games, won't display recommendations from other users. Worse still, searching restaurants "near me" returns locations thousands of miles away.
An update released in December promised to improve stability issues; if my experience is any indication, the update made things worse. The app crashed repeatedly even after I reinstalled it and restarted my iPhone.
Bottom line: Given enough time, the frustrating and buggy LivingSocial app will make an anti-social misanthrope out of you.
[Ben Boychuk is a columnist and freelance writer in Rialto, Calif. Feel free to e-mail him.]