Wi-Fi hotspots are everywhere, but I find increasingly often that companies and organizations have janky portals. Sometimes, I'm asked for a code that nobody in the location seems to have. Other times, the network stalls and never quite lets me in but doesn't disconnect my iPhone, either. In these cases, you're often presented with two choices: Use Without Internet or Use Other Network.
Those choices don't make clear what the outcome would be, but I can explain it plainly:
Choose Use Without Internet, and your iPhone or iPad remains connected to the Wi-Fi network even though your device has determined it can't reach the internet. This may be the right choice if you want to try to log in again or need a resource (like a printer) that's available on the local network even if you can't get internet access.
Use Other Network disconnects your iPhone or iPad from the Wi-Fi network, reconnecting you to a cellular network if one is available and your device has an active cellular plan.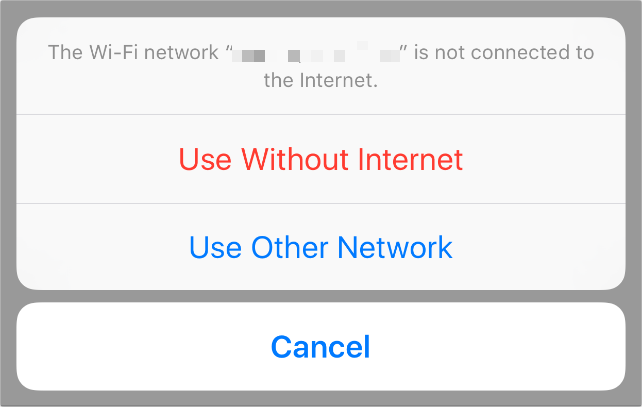 Foundry
If you tap Use Without Internet and regret it, you can back out of that choice:
Go to Settings > Wi-Fi.
Tap the info i icon to the right of the network name.
Tap Forget This Network and confirm your choice.
This disconnects your device from the Wi-Fi hotspots and also prevents it from rejoining automatically. You can then use a cell connection or find a more amenable network to join.
Ask Mac 911
We've compiled a list of the questions we get asked most frequently, along with answers and links to columns: read our super FAQ to see if your question is covered. If not, we're always looking for new problems to solve! Email yours to mac911@macworld.com, including screen captures as appropriate and whether you want your full name used. Not every question will be answered, we don't reply to email, and we cannot provide direct troubleshooting advice.