At a Glance
Expert's Rating
Pros
The sequencer is finally usable
Adjusting grooves with a mixer helps humanize rhythms
Thor modular synth is a joy
Fantastic-sounding package hides tremendous depth for those willing to explore
Cons
Another piece of software, like Record, is needed for audio input
Vertical racks can be hard to see on big screens and can't be loaded side by side
Our Verdict
Replace racks of hardware instruments and drum machines with virtual software? When Reason 1.0 was first released nearly 10 years ago, the idea was still largely heretical. Reason, which combined solid-performing racks of software instruments and effects with mixing and sequencing, helped change that perception. Part of Reason's popularity is its open-ended interface: beginning users can stick to its automatically configured front panel, while advanced users can hit the Tab key and repatch modules into powerful custom rigs. A steady stream of updates over time has added modules and refined functionality while adhering closely to the original formula and keeping the use of system resources and screen real estate economical.
Version 4.0 introduced a vastly-improved sequencer, a rich, new synth, arpeggiator, "groove" editing, and usability tweaks. Past releases have proven that subtle changes can make a big difference in workflow, and now that the developer has launched a brand new companion application called Record ( ) that fills some of Reason's gaps, it's a perfect time to revisit Reason.
New modules: Thor synthesizer, RPG-8 arpeggiator
If you're not interested in advanced sound design, recent versions of Reason happily hide their complexity. In fact, most of the time, you can very quickly call up a device, load a preset from Reason's friendly preset browser, and start playing, with Reason handling setup for you. But when you do want more depth, Reason's modules can be combined into monstrous sound-making environments.
The new synthesizer, Thor, is a microcosm of this design. If you just want a library of leads and pads, Thor delivers a wide range of rich-sounding preset content. Hit the Show Programmer button, though, and you'll find a compact but powerful semi-modular synthesizer. Thor has three oscillators, three filters, four envelopes, a wave shaper, two Low Frequency Oscillators for modulation, chorus, and delay, and a step sequencer, all before you add in Reason's library of sound modules. Oscillators include wavetable sources in addition to the more-common types, and the Ladder Filter, Comb Filter, and Formant Filter are particularly gorgeous.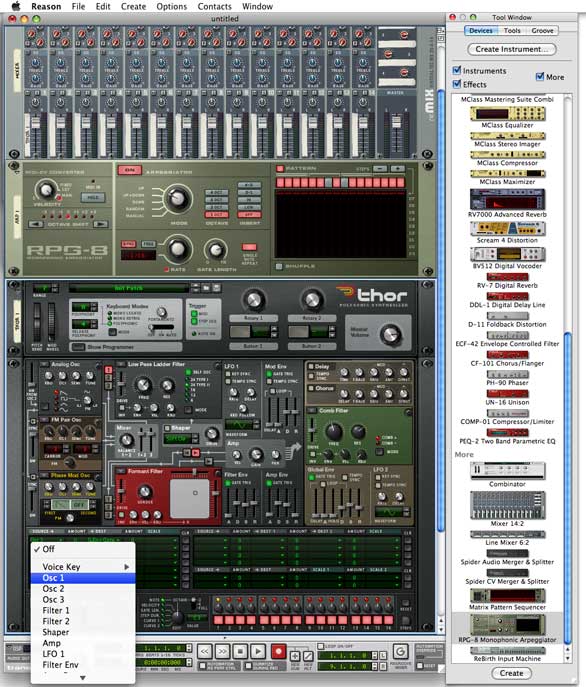 Propellerhead describes Thor as "semi-modular," but its routing capabilities are sophisticated enough that you can re-patch all its modules into strange signal routings and modulation that are normally impossible with a typical software synth. You can also route signal in and out of a Reason rack, meaning you could use Thor as an effects processor or signal generator for other Reason modules. (That, in turn, makes it still more powerful when combined with audio input using Propellerhead's new Record.) This also makes a compelling argument for Propellerhead's controversial no-plug-ins policy: you can freely patch Thor both internally and externally with a degree of flexibility not possible with plug-ins. The open-ended patching of control and audio signal in Reason and Record even rivals the deep Environment feature in Apple's Logic Studio ( ).
It's hard to believe Reason didn't acquire an arpeggiator until now, given its electronica-tilted features, but the RPG-8 monophonic arpeggiator is worth the wait. Using notes and chords, arpeggiators generate rhythmic patterns. The RPG-8 isn't a particularly unusual take on the concept, but it does provide ample visual feedback as you play notes, includes quick access to common controls, and also provides the ability to route modulation to any Reason modules. In fact, because you can route it to anything in Reason, it's a little unfair to call it an arpeggiator; it becomes a "Control Voltage" modulation source for the entire application.
ReGroove mixer, improved sequencer, and usability changes
Reason's built-in sequencer has traditionally been bare-bones; many people used the ReWire functionality to combine Reason with external software like Ableton Live ( ) instead. However, Reason 4.0 finally makes the sequencer functional and fun. You can create multiple lanes inside each track to keep track of parameters and patterns on the Redrum and Matrix. Editing is easier with vector-based automation envelopes, editable clips, and (long overdue) a razor tool for slicing sections of your arrangement. There's also automation for time signatures and tempo, a critical feature for people not making 120-bpm techno tracks. You'll still need Record, or another host, if you want to add audio, but this is the first version of Reason with a sequencer that's easy to recommend.
The new ReGroove Mixer is a unique take on groove quantization, for applying more human feels to rhythms in your tracks. Reason comes preloaded with the extracted musical feels of various styles and even vintage hardware like the Akai MPC-60 drum machine. You can apply these to your tracks to make the rhythmic swing of sequencer patterns more organic. What's unusual about Reason's take is that it turns this functionality into simulated hardware, with multiple "channels" of groove settings you can assign to different parts. Sadly, you can't apply these grooves directly to devices; you'll have to create a sequencer track first. But even with similar features in other applications, Reason's implementation is uniquely powerful and accessible.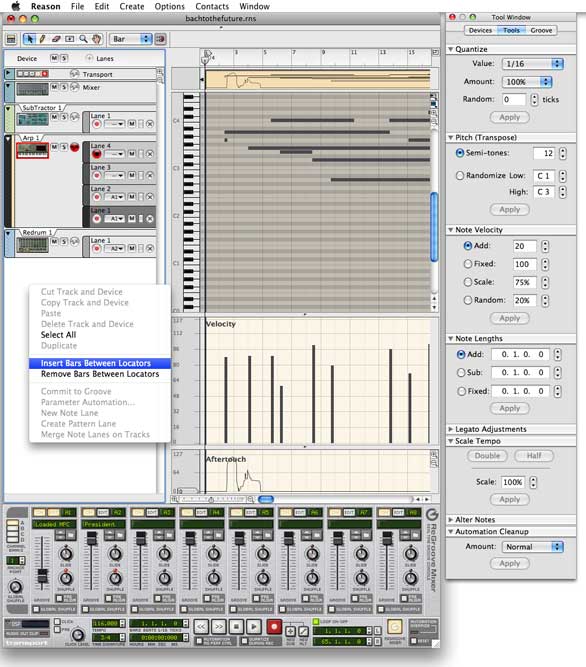 Many small changes make this the most comfortable version of Reason yet. Reason 4 also adds a floating inspector palette called the Tool Window, which makes it easier to discover and add new instruments, manipulate notes and automation, and adjust groove quantization. There's finally a precount function for the metronome click, and more manageable default settings for recording multiple takes. You still can't load multiple racks side by side; for that, you have to add Record. The user interface also remains ultra-compact, sometimes to a fault: it's hard to see on a 17-inch MacBook Pro, though nicely efficient on a 13-inch screen. Largely, however, Propellerhead has stomped out Reason's major annoyances, without removing the unique features of its personality.
Macworld's buying advice
Reason 4 has a lot of competition for your music-making hours, but especially if the idea of patching elaborate custom sound configurations appeals, it shouldn't be overlooked. Yes, there are other semi-modular synthesizers that can do subtractive, wavetable, and FM synthesis like Thor – but few are as gentle on your CPU or as easy to patch. Reason's sequencer improvements and arpeggiator aren't news to anyone using modern sequencers and digital audio workstations, but then, no other software combines these features with free-form modular patching in quite the same way.
Because of its ongoing lack of audio input, Reason alone is unlikely to appeal to most users; you'll probably want to combine it with a host application like Ableton Live, Apple Logic Studio, or Propellerhead's own Record. On the other hand, spend enough time really learning Reason's built-in facilities and you might not even miss plug-ins. That was true in 2000; the surprise is that it's just as true in 2010. If you didn't like Reason before, you're unlikely to like it now. But if you liked Reason in the past and haven't revisited it lately, now might be a good time to give it another try.
[Peter Kirn is a composer, producer, and educator, and runs the site Create Digital Music .]