Sony will launch the first laptop containing the new TransferJet short-range wireless system on Saturday. Sony hopes TransferJet will replace cables for shifting data between gadgets, but the technology's success will depend on its use in products from the big-name consumer electronics companies that have pledged to support it.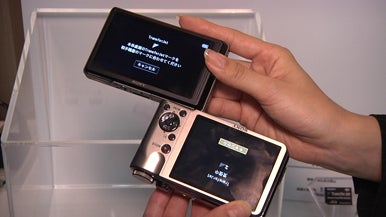 TransferJet, under development for more than two years, works over a distance of up to 3 centimeters. Its speed is supposed to rival USB 2.0 and because of its short range its developers have opted not to implement the device pairing and security set-up functions of other wireless systems such as Bluetooth.
The first products to support it—Sony's Vaio F laptop and TX7 and HX5V digital cameras—will be launched in Japan on Jan. 23 and Feb. 5 respectively and will hit international markets from February. They were demonstrated on Monday at a Tokyo news conference.
To send pictures between cameras, a user initiates sending on one camera, brings it close to the receiving camera and the rest happens automatically. During the demonstrations it worked well, accomplishing the transfer of pictures between cameras and from a camera to a photo frame and PC in just a few seconds. It appeared easy to use and required little work from the user.
But this first batch of products will suffer from a limitation common when a new technology debuts: they're not quite up to speed.
When it announced TransferJet in January 2008, Sony said it would run at 560Mbps and users would see actual transfer rates of up to 375Mbps after networking overheads. However, first-generation products will be much slower, with transfers from a Cybershot TX7 camera to a Vaio F laptop running at about 40Mbps, Sony said Monday. The slower speed — about one-tenth of the maximum possible — is due to software overhead in the PC and data processing, the company said.
There'll be no TransferJet chip in the first Cybershot cameras to support the technology. Instead, the radio chip will come in an optional 8GB Memory Stick card so users will be required to purchase the card if they want to make use of the functions in the cameras' firmware. The card will cost $100, a $30 premium on a similar card without TransferJet.
Sony said it isn't fitting TransferJet as standard because of the fierce price competition in the digital camera market. Adding the chips would increase the price of its cameras, and with few users requiring the technology they would become less competitive.
Sony will also launch a TransferJet USB adapter. It demonstrated this on Monday, connected to a Bravia TV and digital photo frame receiving images from a camera. The TJS-1 adapter will cost $150.
Whether TransferJet achieves its goal of replacing cables will depend in large part on how quickly it is added to other products.
A consortium formed to support and develop TransferJet counts many of the biggest names in consumer electronics as members, including Samsung, Toshiba, Kodak, Canon, Nikon, Panasonic, Olympus, Pioneer and Sony Ericsson. The list of companies leans towards camera and cell phone makers, hinting that these sectors could be the first to see greater adoption — if manufacturers decide it's worth the additional cost.
To date, Toshiba has been the only other company to demonstrate prototype TransferJet devices. At last year's Consumer Electronics Show in Las Vegas it showed the transmission of pictures from a prototype PDA to a laptop and TV.
But at this year's show, only Sony was demonstrating the technology despite its imminent commercial launch. If that proves to be an indication of the state of development at other companies then the technology could face a tough battle to achieve mass adoption.