At a Glance
Expert's Rating
Pros
Compact, portable all-in-one design
Support for a wide variety of audio formats
Good sound for its size
Access to streaming online content
Cons
Navigation and text entry can be tedious
Control limited without expensive remote or third-party iPhone app
Switching to Web-based control requires manual setting changes
Our Verdict
Logitech's Squeezebox family of products, originally created by Slim Devices, began life as boxes to get music stored on your computer to play through your existing stereo. Since Logitech took over the Squeezebox reins, the line has expanded to include a few all-in-one products that act not only as receivers for streaming content, but also as speakers to play that content.
The most affordable such option is the $200 Squeezebox Radio, a compact (5.12 inches tall by 8.66 inches wide by 5.04 inches deep) device that streams audio from your computer, from a NAS (network-attached-storage) drive, or over the Internet, playing that audio through a single built-in speaker that incorporates a 3/4-inch tweeter and a 3-inch woofer. On the front is a 2.4-inch color LCD screen that display menus, album art, and other visual information.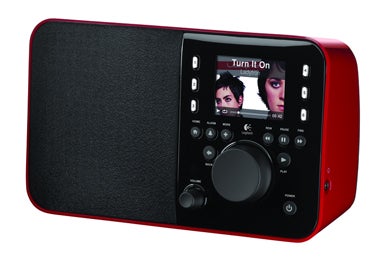 The Radio comes in your choice of black or red, and can play a bevy of musical formats (including several that iTunes can't): MP3, AAC, WAV, AIFF, WMA, Apple Lossless, FLAC, and Ogg Vorbis. As with other non-Apple devices, however, the Radio can't play older, FairPlay-protected (.m4p) AAC files purchased from the iTunes Store. Newer, or upgraded, iTunes Plus (.m4a, unprotected) files will play just fine.
To set up the Radio, you first install the Squeezebox Server preference pane (which runs in 32-bit mode) on the Mac you want to stream from. (There are also versions of the software for Windows and Linux computers and for supported NAS devices.) The software can work in conjunction with iTunes, reading your iTunes library and playlist information, but you can also choose a separate Music Folder. I use this option to play lossless FLAC files that iTunes can't import. (Note that you can play music only when the computer running the Server software is on and awake.)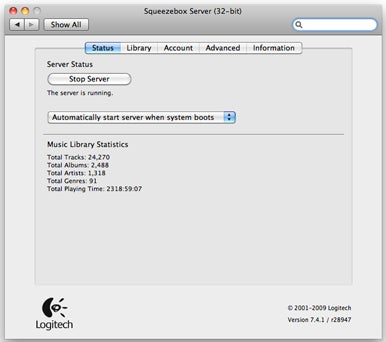 The Radio connects to your network via 802.11g wireless or ethernet. Initial setup using the Radio's built-in screen is somewhat of a hassle, since you have to enter text such as your wireless network password using a scroll knob to navigate to and select each letter. But once you're done, you have instant access to all of the songs, albums, artists, genres, playlists, and more on your computer. In my testing, playback mostly worked fine, although with some playlists, the Radio would start playing several seconds into the first track or, in some cases, skip the first track entirely. In addition, one particular album wouldn't play at all, sometimes forcing me to restart the Radio.
The other appealing feature of the Radio is its capability to connect to the Internet to stream content from various sources and to connect to various social-media services. For example, the Radio can access scads of Internet radio stations from around the globe; can play thousands of concerts from the Internet Archive's Live Music Archives; can integrate with Facebook; can display photos from Flickr; and can stream music from Napster and Rhapsody accounts.
The Radio's small size makes it great for putting on a nightstand or in a kitchen, or for moving from room to room as needed. (Built-in alarm features add to the nightstand appeal, although the non-backlit buttons can be difficult to differentiate in dim lighting.) You can also use it as part of a whole-house audio system, integrating the Radio with other Squeezebox products.
In general, the Radio's sound quality is quite good for such a small package, and plenty loud enough to fill a small-to-medium-sized room. Music sounds mostly clear and bright, although the Radio doesn't product much bass. For a fuller sound—and a larger footprint—the $300 Squeezebox Boom is the company's other all-in-one option.
The Radio's biggest weakness, however, is its interface. Using the scroll knob to navigate large lists of items on the Radio's small screen is frustrating, and the number of button presses required to access different functions can also be a pain (though you can choose to have some of those functions appear on the main Home-screen menu). There's a search function, but it uses the same dial-a-letter approach as entering your wireless password. You can click the scroll knob to select items, but its function is sometimes the same as the play button to its right. And although there are six preset buttons on the front of the Radio, there's no way to see what's stored in each preset without actually pressing it to see what happens. Finally, although pressing and holding a preset button while listening to a streaming radio station or a song sets that item as that preset, doing the same while browsing an iTunes playlist doesn't always "take." You can, however, add songs or albums to a Favorites list.
Thankfully, there are alternate ways to control the Radio. You can use a Web browser and log into mysqueezebox.com (although you need to manually change a setting, buried deep in the Radio's menus, to turn Web access on and off), or you can purchase a $300 Squeezebox Controller to act as a remote control. The best way I've found, however, isn't developed by Logitech at all—it's the $10 iPeng app for the iPhone and iPod touch. Although the app isn't perfect, it's well worth the price and makes the Radio infinitely more useful, especially when you need to go beyond basic playback controls to browse your media or dig into the Radio's menu options. Logitech really needs to either buy iPeng or, like Sonos, create its own iPhone app.
Macworld's buying advice
The Squeezebox Radio is a nicely designed device for listening to your music from anywhere in the house. As a bonus, it lets you access all sorts of online content, both audial and visual. The Radio is powerful enough to fill a bedroom or office, although it's lacking in bass. My biggest complaint is that the system's interface makes it very difficult to deal with large music collections or to access the unit's many options, and the best solution is a third-party iPhone application that Logitech should have made itself.