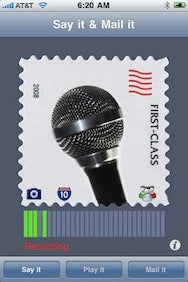 Carnation Software updated its Say It & Mail It app for the iPhone and iPod touch. Version 2.0 improves the way Say It & Mail It handles map screenshots; it also allows you to shake your mobile device to start recording a new voice message.
Say It & Mail It lets you e-mail a voice recording to yourself or to others. The e-mail can also include photos, movies, or a Google map of your location. If you're e-mailing yourself, the e-mail address and subject line are autofilled so you don't actually have to type anything. Voice memos aren't actually stored on your phone, so you don't have to worry about managing files.
Carnation suggests a handy function for Say It & Mail It—you can use it as a car parking app where you record a short voice memo about your parking spot, take a photo of the car, include a map, and have the app e-mail the information to you. When you're ready to return to your car, you won't have to stress about remembering where exactly you're parked; just consult the e-mail you've sent via Say It & Mail It.
Immediately following the release of version 2.0, another minor update added map accuracy information to your e-mail. Say It and Mail It 2.1 is available now for $2 in the iTunes App Store. You'll need an iPhone running iPhone OS 3.1. iPod touch users can use the app if they have headphones with a microphone.